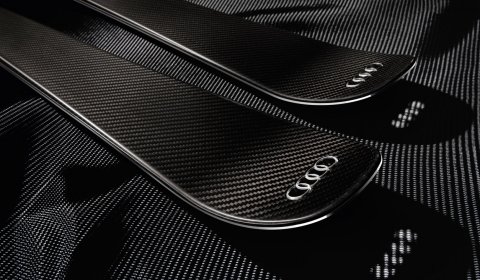 The Audi Carbon Ski concept is a new piece of sports equipment made of carbon. The concept study was designed and developed at the Audi Concept Design Munich together with the ski specialists from Head and may become available already in winter 2011/2012.
A cab of high-strength carbon fiber encloses layers of aluminum and titanium, as well as a wood core. At 1,550 grams (with a ski length of 170 cm), the ski will be about 200 grams lighter than comparable models. This allows it to be maneuverable and agile. The carbon allows the engineers to achieve optimal stiffness while also minimizing torsion, which is the twisting of the ski along its longitudinal axis.
For those interested and now reading this at their wintersport destination, you will have to wait a year before the skis will hit the Audi online or dealer shops.