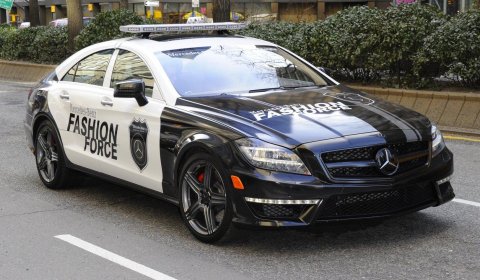 Stylesetters or fashionates with fresh, creative looks living in New York be aware of this Mercedes CLS63 AMG patrol car, which will be used by the Fashion Force to spot you during the Fashion Week in New York.
The 2012 CLS63 AMG patrol car will work the streets between the Lincoln Center and the neighborhoods in downtown Manhattan. Each stylesetter chosen in the Mercedes CLS63 AMG patrol car will have their picture taken and some of them will receive invitations to Mercedes-Benz Fashion Week.
The vehicle will be driven by some of the leading fashion bloggers in New York and is a true power saloon with its 557hp and 800Nm of torque. The Mercedes-Benz Fashion Force is on patrol from Thursday, February 10th until Monday, February 14th.
You can follow the vehicle via social media on Facebook.com/MBFashionWeek and Twitter.com/MBFashionWeek.