Dealerships offering special and unique versions of their standard prodution cars is not something that happens often. Two dealerships in the US have started offering two 700hp Camaro models, resembling the COPO Chevrolet Camaros from the '60s.
In the late 1960's dealerships such as Yenko, Nickey, Berger and others produced COPO Camaros that were fast then and are much sought today by car collectors. Two dealers – DeNooyer Chevrolet in Albany, N.Y., and NeSmith Chevrolet, with locations in Claxton and Jesup, Ga – are introducing the 21st Century COPO Camaro. The two sports cars are called: the NeSmith's "Storm" Camaro and the DeNooyer 454 Camaro.
The development of the Storm started with a transplant that put the supercharged LS9 V-8 from the Corvette ZR1 under a Camaro's hood. After some tweaking, the engine pumps out around 700 horsepower. Add a special ground-effects aerodynamic body kit, Baer brakes, American Racing Headers exhaust system, Hurst short-throw shifter, Pfadt Racing suspension components, Drive Shaft Shop axles and tuning on the chassis dyno at Hypertech and you have a $ 125,000 road rocket.
The 454 Camaro, also known as the HTR-SS454, includes a LSX454 crate engine with port fuel injection, accessory drive system, custom flywheel and ZR1 clutch producing 620 horsepower and 590 pound-feet of torque. This means 200 more horsepower than a stock Camaro SS. To deal with the increased power several upgrades are outfitted to the HTR-SS454.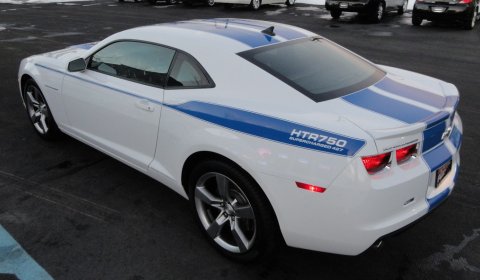 [Via Autoblog.com]