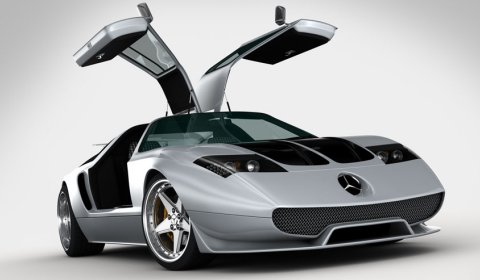 US coachbuilders GWA Tuning has revealed the first renderings of their latest project; the Ciento Once. The prototype is still under development and is a revival of a famous Mercedes Gullwing prototype from the 70s. GWA has created a modern take of the same vehicle.
The Ciento Once has a tubular space frame chassis and is powered by a mid-mounted Mercedes V12 engine producing 408hp and linked to six-speed Cima H type transmission. The setup includes special tuned exhaust system, a coil-over suspension system, and a braking system normally used on a Mercedes S55.
The exterior is a handmade aluminum body. It includes an electric-operated rear adjustable wing, aerodynamically functional rear diffuser and front spoiler. The sports car weighs in at 1,400kg.
The interior consits of carbon fiber seats, brushed aluminum pedals and illuminated door sills. The wheel-tire setup resembles the Mercedes SLS AMG setup. So in the front you have 19×9 wheels with 265/35/19 tires and 20×11 wheels with 295/30/20 tires at the rear.