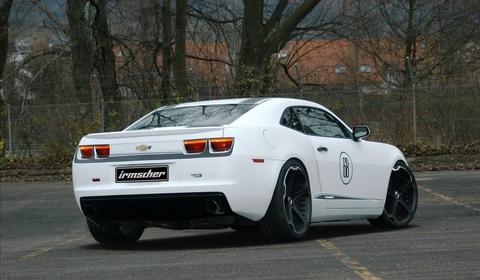 The Camaro must be one of Chevrolet's most tuned cars. Several tuners are on the market such as Hennessey Performance or aLL STaR Performance offering their best packages. Even GM itself offers packages for their all-american muscle car.
In line with the subject 'tastes can differ' there's now a new package available, called i42, created by Irmscher which is based on the Camaro SS. The model debuted at the Essen Motor Show a few weeks ago and has a supercharged 6.2 liter V8 under the hood producing 509bhp. The power makes you sprint from standstill to 100km/h (62mph) in 4 seconds flat and stops sprinting at 275km/h (171mph).
The package comes with a sport exhaust system, performance brakes and special 22 inch alloy wheels in a black and silver design. The body is adorned with thick black racing stripes at each end over the top of the car and "Since 68" stickers; referencing the Camaro's heritage. The muscle car can be yours for just € 49,000 ($ 65,000), which includes the standard Camaro SS.
[Via WorldCarFans]