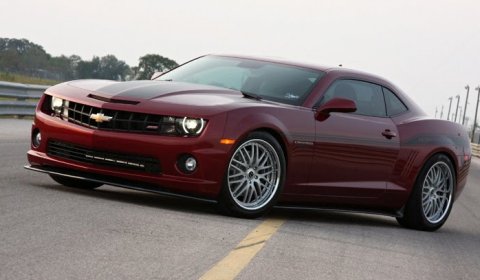 Hennessey Performance has released a new performance upgrade for the new Camaro SS, called the HPE600, based on 2010-2011 LS3 or L99 powered versions. The main extra is the TVS2300 Supercharger System, which raises output to 602hp and 807Nm (595lb-ft) of torque.
The Texas-based tuner claims that the HPE600 is capable of completing the 0-60mph (96km/h) sprint in the mid three-second range and run the quarter mile (~400 meters) in 11 seconds.
The HPE600 Supercharged upgrade includes TVS2300 supercharger system (Black or Chrome), HPE cold air induction system, 1 7/8 inch long tube stainless steel headers, high flow catalytic converters, fuel injector upgrade, HPE engine management calibration, Hennessey & HPE600 exterior badging, limited edition numbered dash & engine plaques, Hennessey premium floor mats, professional installation, dyno tuning & road testing and three year / 36,000 mile limited warranty.
Additional appearance and performance options
for the HPE600 are a stainless steel cat-back exhaust, exterior stripes, lightweight wheels, torque converter or clutch upgrade, full coilover suspension kit, Hennessey carbon aero body kit and a custom leather interior.