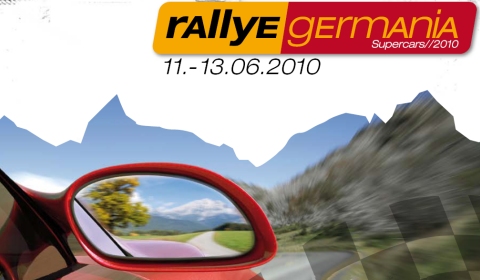 The new German supercar event -Rallye Germania 2010 – will start in one week. After discussing the event weeks ago it is time to give you some insight into the line-up of vehicles participating.
The line-up of vehicles includes a wide variety of cars, like the Ferrari F40, Porsche Carrera GT, Ferrari 599 HGTE, Ferrari 599 GTB, Ferrari 430 Spider and 360 Stradale. An Aston Martin V12 Vantage, Lamborghini Gallardo, Lamborghini Murcielago Roadster, Maserati Spyder, Porsche 997 GT2, Porsche 997 Turbo, Audi R8 and several other Porsche's are also participating. Three special convertibles in the event are the Wiesmann MF 3, Jaguar XKR Convertible and Mercedes-Benz SL65.
A Bugatti Veyron and Koenigsegg CCXR complement the line-up of vehicles that will start on Saturday morning June 12th 2010 right in the middle of the Black Forrest near the Titisee and the city of Freiburg. The two-day route includes the landscape of Southern Germany and Austria, but also the twisty and winding country roads. The route of the second day will bring the teams to the Salzburgring circuit.
For more information or questions on the Rallye Germania, feel free to contact us or check out the official website. A brochure can be downloaded here! There are still open places, so if you want to participate please contact us.