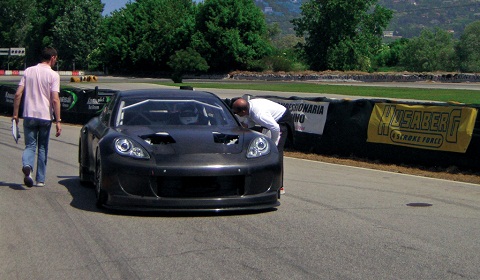 Since February of this year Porsche racing and N.Technology have been putting together a Panamera racer, unveiled today, they hope to campaign the car in the Superstars Series at the Hockenheim ring in Germany on 12-13th June. Built on the chassis of a Panamera S, the car will be driven by touring car champion Fabrizio Giovanardi.
The specs make for interesting reading. For starters, the 394bhp V8 found in the 'S' has been uprated to a substantial 450bhp. At the same time, engineers have shed 480kg to bring overall weight down to a suitable 1,320kg. It retains the rear wheel drive system but ditches the PDK in favour off a better, race focused, 6 gear sequential gearbox.
New brakes, suspension, wheels and tyres are all geared towards track performance. Finally, the car benefits from extensive aerodynamic adjustments with the front splitter, front and rear widened fenders and rear wing all coming from one supplier.
We look forward to seeing how it does, for now, N.Technology have given us a few photos to show the cars practice run.
[Via JonSibal]