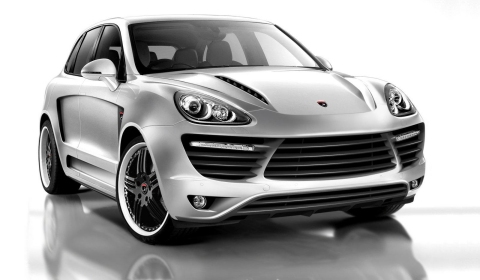 The Russian tuner TopCar has revealed its new program creating the new Advantage and Vantage GTR renovated series. Three different versions are available for clients which have set their eyes on the new 2010 Porsche Cayenne.
The Porsche Cayenne Advantage 2 project shows a new car appearance where almost all car parts will be substituted, including the headlights. They are replaced by Porsche 911 headlights. The aerodynamic package includes front and rear spoiler bumpers, extended fenders, side skirts, wide door caps and a new bonnet. Rear door handles will be covered by the wide door caps which obtained two in-build side air intakes. The new rear spoiler bumper has a wide diffuser and air outlets. The newly designed front spoiler bumper and the new-made bonnet with the arrowy lines as well as the extended front fenders complete the kit. The number of renovated cars is fixed; only 25 unique cars will be built.
Porsche Cayenne Vantage GTR 2 uses the Porsche Cayenne 2 setup as a base, except the headlights. The normal Cayenne headlights are used. The whole body shape forms with the front spoiler bumper with wide air intakes accompanied by the new bonnet, wide fenders and a rear spoiler bumper with a diffuser. Only 25 cars will gain the lines of the Porsche Cayenne Vantage GTR 2.
The Vantage 2 – the third and final one body kit assembly – doesn't require any complementary car base work as the two Vantage GTR 2 packages. The whole package includes front and rare spoiler bumpers, front and rare fender extenders, a bonnet and side skirts. The Vantage 2 appearance has its own distinctive face containing the wide character strings inherited from the Vantage GTR 2. The amount of renovated cars will be unlimited.
All car parts will be fully manufactured from carbon kevlar and carbon fiber. Additionally, to every of these three projects TopCar offers new wing mirrors with LED side repeaters and a performance upgrade improving the output from 550 to 750hp. The new forged wheels (R21 and R23) have been especially designed for the new Porsche Cayenne.
First cars will be shown up in August. After the debut at the Moscow International Motor Show 2010 the renovated Porsche Cayenne Family will be shown at the Essen Motor Show 2010.