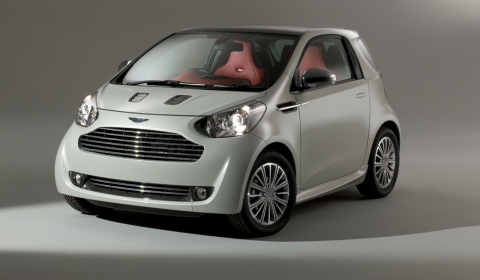 Supercar maker Aston Martin has unveiled a new set of studio pictures showing its Toyota iQ-based Cygnet. Normally we don't discuss vehicles like this, but this time it is a bit different, because it's an Aston. You may have noticed on the header picture the Aston styling cues, such as the rear lights, door handles and front grill. Although, they have tried you still spot the iQ's existing design.
The luxurious, all-hide interior, has been designed by Aston themselves. It uses the existing cabin's instrument pack and architecture, but they have added new colours and trim materials to improve the luxurious setting. Underneath the looks the Cygnet uses the same technology as a Toyota iQ, of course there are different wheels and tyres. The 1.3 litre four-cylinder engine will be the main engine on offer.
Aston Martin expects to build between 1000 and 2000 cars a year at its factory in Gaydon. First markets are the UK and Europe, other markets will follow if demand is opening up. The concept will go on sale before the end of 2010. Only Aston Martin owners and those with cars on order are allowed to buy the vehicle in the first few months, after the introduction period it goes on general sale. Cars will be sold exclusively through Aston dealers.
Generally this is the idea behind the vehicle. The official name is still unknown, Cygnet will definitely not be the name to be used. You can hardly pronounce it correctly. IQ, Smart, AMV8… uhmm… Perhaps Aston Martin V4 Clever is a good name to start with? It leaves room for a Vantage, Volante and RS version!