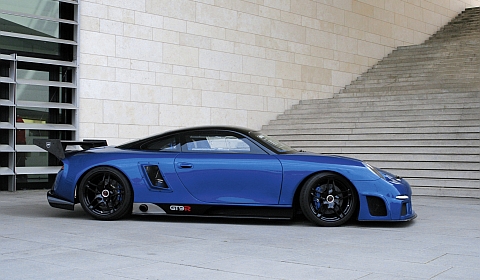 9ff's flagship model received a leaked introduction to the world so we have never really known much about it. 9ff has finally put together some information for us to give you. After spending some time at this years Essen Motorshow we have to say, we like what we saw!
As we already knew, 1120bhp is the headline figure. Enough power to beat a Veyron and top out at a staggering 418km/h (estimated 160mph). Torque figures are 1050Nm which means 0-100km/h (62mph) in 2.9 seconds, 0-200km/h in 7.4 seconds and 0-300km/h in 14.9 seconds. At this point we should let you know that these figures are for the GT9-R in its most extreme form.
Only twenty of these cars will ever exist and each one will be subject to a number of different options suited to their respective owners needs. States of tune and aerodynamic features will be customisable with each car having the option to go back to 9ff at a later date for the 'next level' of tuning.
So what are the other two options? 9ff starts with a 4.0 litre, 6 cylinder boxer engine and a kit that produces 750bhp. 380km/h (236mph) is still possible with stage one modifications as well as a 0-300km/h (186mph) time of 20 seconds. Stage two has 987bhp and a 409km/h (254mph) top speed.
On top of these options there's six-speed manual and sequential gearbox options with a further five-speed tiptronic gearbox available for stage one cars.