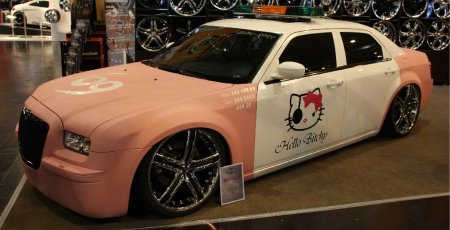 The Essen Motor Show proved once again very valuable for our Overkill category, no less than eight cars scored our qualification overkill.
The most remarkable 'creation' at the Essen Motor Show this year was drag race Smart. The huge front spoiler, rear spoiler and extended chassis combined with a purple paint job clearly earns this Smart the overkill tag.
Another very interesting model is a 1970s Rolls Royce Silver Shadow modified to have an output of 1350hp from the V8. Price tag for this precious piece of overkill? 700.000 dollar!
Like last year a lot of Volkswagen Scirocco's are displayed at the Essen Tuning Show this year. One of them is clearly a few steps to far, lowered to the ground with a over the top paint job and interior.
Another car worth mentioning is the 'Hello Bitchy' Chrysler 300C. Lowered, equipped with tinted windows and a matte pink / white paint job and a list of Girls / Boys on the hood we can only imagine the driver been 'in touch with' it looks like the perfect car for US-celebrity Tila Tequila…