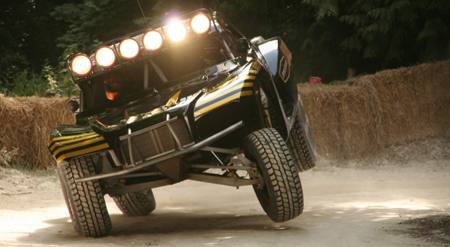 One of our favorite places to spectate at the Goodwood Festival Of Speed is the rally stage. Usually there's a good mix of historic and current rally cars and some good spots to see them in full sideways action. There's the added benefit of getting sprayed with dust every time a car drifts round a corner as well!
We managed to get a few usable photos from a couple of different spots here. We've included them below. However, as you've probably noticed by now, we didn't have a professional photographer on hand for the day.
However, other websites did. We've therefore added in a few shots from Supercars.net in a separate gallery below.
This years rally stage included some pretty special cars. From Mini Cooper's to Group B Quatrro's, the full range of rally machines were represented.
An overwhelming favorite of ours was the Jesse James 800bhp Custom Trophy Truck that ran the rally course a number of times during the weekend… as well as the hill… and the Bowler demonstration area as well…
One of our lasting memories of the weekend will be watching the beast work it's way through a chicane, covering spectators with dust, stones and leaves as the driver skimmed the embankment. We've included a couple of pictures from Pistonheads.com photographers to show you just how hard Jesse was pushing it.
Also competing on the rally stage were several legendary title winning Audi Quattro's. We got to see the 550bhp Audi Sport Quattro S1 wrestled round the tight Goodwood corners as well as the 1983 World Championship winning Audi Sport Quattro driven by rally legend Hannu Mikkola.
Lancia put in a strong showing with examples of Championship winning cars. The Fulvia HF of Sandro Munari, winner of the 1973 European Rally Championship made and appearance as did a Lancia Stratos and two Rallye 037's.
Again, we'll leave you with some pictures so that you're able to see for yourselves!