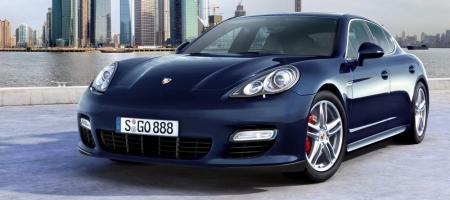 Porsche is planning a diesel-engined version of its new Panamera using existing Volkswagen Group engines. A similar strategy applied to the diesel Cayenne will be used. The Panamera GTS is also expected to be launched soon and will be positioned above the Panamera Turbo. It will likely boast more than 500 horsepower, enabling it to beat the 4.0 second 0-60 mph time of the Turbo.
A highly placed source within the company stated to Autocar that Porsche is considering the diesel-powered Panamera. If such a model were to be built, it would likely adopt a modified version of the Cayenne's 240 bhp 3.0-liter V6 or the Audi A8's 322 bhp 4.2-liter V8.
The top range high-performance version of the Panamera, which will sit above the Turbo. Again it will mimic the equivalent Cayenne, the GTS, by doing away with the Panamera Turbo's standard air suspension and replacing it with steel springs. The car could be badged as a Turbo S or even a GTS.
These models are a logically step into the future of the new Porsche and follow after the rumours of the Cabriolet and GT Coupe. However, nothing is officially confirmed at this stage.