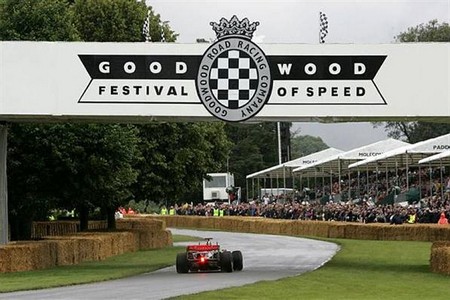 Goodwood Festival Of Speed is quickly becoming one of the biggest motoring events in the UK. Enjoying it's 13th year in 2009, the Festival of Speed is scheduled to run from Friday 3rd July to Sunday 5th July. 'True Grit – Epic Feats of Endurance' is the theme. We've compiled some information about what you can expect to see at the event.
HILL CLIMB
Much of the action at Goodwood focuses around the hill climb course. It's a 1.86 km (1.16 mi) course heading up past the main house to meet at the top of the hill near the popular rally stage. The hill climb record hasn't been surpassed since 1999 when a time of 0:41.6 was recorded by Nick Heidfeld in the previous years McLaren MP4/13. Since this time however, health and safety officials have declared that Formula 1 cars are not allowed to set times for safety reasons. Also expect motorbike times to be discounted for the same reasons.
Times are slowly coming down though, last year saw Justin Law set a blistering time of 0:44.19 in a Silk Cut Group B Jaguar on Sunday, bettering both his best times of the Friday and Saturday. Taking to the track during the weekend will be Formula One world champion Lewis Hamilton driving the late Ayrton Senna's 1988 McLaren-Honda MP4/4 turbo as well as current WRC champion Sebastian Loeb in his Citroen C4 WRC.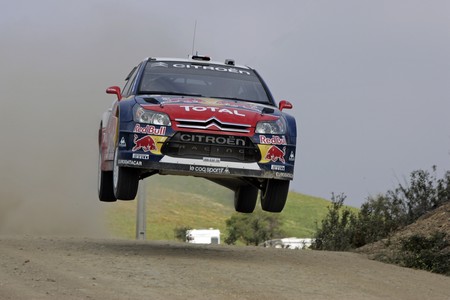 As well as the current world champions, over 75 top names from motor racing will also take part. Jenson Button, Mark Webber and Timo Glock have all confirmed an appearance as has Stig Blomqvist, Hannu Mikkola, Rauno Aaltonen and Bjorn Waldegaard. Former stars Sir Stirling Moss, Jackie Stewart, Eddie Irvine, David Coulthard, Dan Gurney, Derek Bell and Damon Hill have also confirmed their intention to be at the event. Jay Leno, Nick Mason and Peter Fonda have confirmed appearances as well!
A PDF file with all drivers and vehicles can be seen here. It shows some pretty interesting drivers alongside some equally as interesting cars. For example, Jenson Button is said to be driving the legendary Mercedes-Benz W154, a V12 monster from the late 1930's.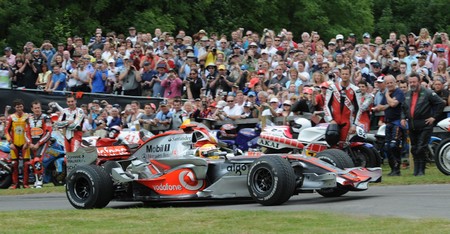 In terms of supercars, last year saw the surprise turnout of a pre-production XFR, so expect the unexpected! We've received word that the GT by Citroen concept car will be making a run up the hill and will hopefully be joined by the Lexus LF-A. Two car's that are rarely seen moving, it will likely be a UK debut for the LF-A, fresh from last weekend's LeMans!
The way each day works out, two runs are done, one in the morning, one in the afternoon. Each run is divided between classes, modern 'supercars' from the Sunday Times enclosure usually take the first run at around 9.00, followed by veterans then the groups work their way through until lunch. Then, after a brief break, drivers are back on track to repeat the mornings schedule. This way, you can work your own schedule around catching a showing of all cars and also get around the masses of other events happening on the day. It's perfectly reasonable to expect to see everything in just one day!
RALLY STAGE
As well as the hill, other areas can be just as exciting. The Rally stage is probably the second favorite area for guests to spend their time. It's positioned a little way away from the main track but features some fantastic driving from world class drivers in classic rally cars from all years. We recommend taking the walk up the hill instead of simply taking the tractors, if the weather's not too bad that is! The route takes you past several of the rally tacks corners where your sure to see some sideways action! The paddocks are just as interesting and join onto the top of the hill where you can stand and watch the cars come in and get autographs from your favorite celebrity drivers!
CENTER PIECE AND CELEBRATIONS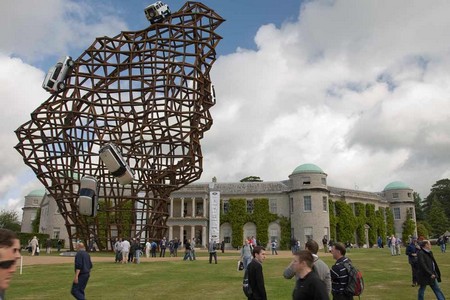 We haven't talked much about the events celebrations yet. The annual centerpiece is being put up as we speak, this year it's Audi who are attempting to out-do Land Rover's stunning centerpiece from last year. We've managed to obtain some sneaky pictures, they don't give away too much, which is good because we like to turn up and be surprised by the usual high level of architectural innovation!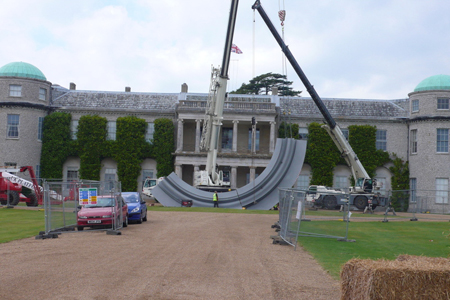 Also joining in will be Mini and Morgan as they celebrate 50 years in the automotive industry and Bugatti as they close in on their own centenary. Expect to see plenty of examples of all three companies cars as you walk around the paddocks. Perhaps there may even be even more Veyron's than the three we saw last year!
CRICKET PITCH DISPLAY
Another recent announcement was that the Cricket Pitch, last year home to the drag racers, will this year we given over to the Wacky Racers. A desert scene has been constructed and will see the cars remain static for the duration of the event, unlike last year they will not be going up the hill.
FoS TECH
FoS Tech will also return this year. Usually this is a chance for manufacturers to feature some of the latest 'green' technology. Usually this brings forward the opportunity to see some of the latest technologies from world wide manufacturers and this year is no different. The Ital Design Frazer Nash Namir and Infiniti Essence have both been confirmed to appear so we look forward to seeing both of them!
CARTIER STYLE ET LUXE
This is featured as you come into Goodwood house and usually holds some of the worlds most expensive cars. It's in the same style as Pebble Beach albeit on a smaller scale! There's several reasons to visit this area, first of which is the fantastic ability to be be so close to some of the most iconic cars in the world, second is it's close proximity to the Sunday Times Supercar paddock!
CARS WE EXPECT TO SEE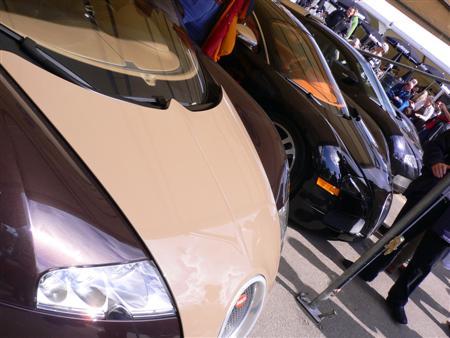 This ones always a tough one to predict. We've already mentioned some big name cars. The PDF we referred you too earlier has a pretty comprehensive list of all celebrity driven cars, however, there's always more than this about so you have to do some searching to be able to see everything. Last year, the trade stands harbored a few interesting cars such as 2 Koenigseggs, a Pagani Zonda and an F50 tucked away very nicely!
Announced already, a 1959 Le Mans 24 Hours-winning Aston Martin DBR1 will be there as well as Richard Attwood's famous Porsche 917K, a car that won a rain soaked LeMans in 1970 and second in 1971 after also coming second at the Nurburgring in 1970. The Auto Union Type D 'Silver Arrows' racer and ex-works Audi Quattro Sport S1 will both also be there.
Also making a UK debut will be the SLR Stirling Moss and the Nissan GTR V-Spec.
EXTRA INFO
To conclude our (pretty thorough!) preview to this years Goodwood Festival of Speed, we're going to make a couple of recommendations based on our experience of the Friday. Get there early, preferably before 8 am as queues become extremely likely the later you leave it. The opposite is also true for leaving, wait until the staff actually kick you out before leaving, the queues are legendary! Don't get caught in them!
Buy the programme bag on the way in, it's worth it. It includes a well presented book showing you all the cars on display on the hill as well as a programme and several other freebies given out by sponsors.
Food and drink can be reasonably expensive so make sure you take enough cash! Also make sure you read the weather reports the night before and wear reasonable footwear. If it were to rain we suspect it would get pretty muddy with over 150,000 people attending.
Tickets cannot be bought on the gate and must be bought before hand. Above all, have a good day!