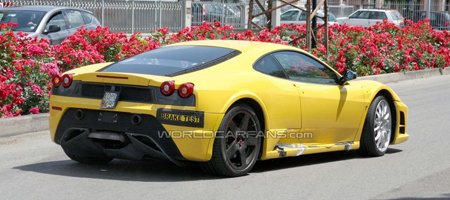 There's been a lot of talk about Ferrari's F430 sucessor recently, the F450. So much so that Ferrari have started prematurely releasing details about the car through various media sources. We're now hearing about it's technical prestige and it's huge advancements past the ageing F430.
F1 and GT racing programmes will feed a lot of the new technologies. Things such as traction control upgrades will be obvious changes, as well as radiators ahead of the front wheels and a double clutch seven-speed transaxle gearbox for eficciency.
The car will definately be crafted out of ultra light aluminium which also increases the rigidity.
We're hearing that it's expected release at IAA 2009 has been postponed until December time. Our source is suggesting that it may even be launched over in the US instead of it's home, European market. The reason for this is the late completion of the cars general shape to incorporate aerodynamic features.
At this time the car will only be in concept form and will most likely feature a hybrid engine. The hard-top will be released first then the spider so that it doesn't automatically steal the California's market share.
SPYSHOTS
[Via Autocar]