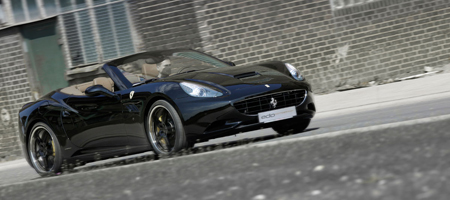 Being a 'natural' convertible, the California doesn't have the same privileges as it's illustrious predecessor of the same name. That car was based on a hardtop chassis, shared with the 250 which had real racing pedigree. The new California sits on a new, ultimately untested chassis. This was always likely to be a contentious subject with true fans of the Maranello brand and one we can expect to see capitalized on by companies such as Edo Competition!
No body kit for this one, meaning you get just performance benefits bar one or two extra cosmetic tweaks to tell it apart from the rest of the pack. The 4.3 litre V8 now produces 40bhp extra bringing the total up to a nice and square 500bhp. They've done this, primarily through an ECU upgrade and a pair of high-flow cats that feed into an exhaust system that's fully adjustable from the cockpit.
It's a light package that allows the California to achieve 0-100kph (62 mph) in 3.9 seconds and a top end of 315 km/h (196 mph).
There's a joint KW / Edo Competition suspension system that gives adjustable compression and rebound damping. Edo also offer to lower the car via sport springs, 35 mm at the front and 35 mm for the rear.
Last but not least, Edo offer three different types of alloys for the car, a 20inch set and two 21inch sets. These can be repainted any colour the owner wishes. It's a nice restrained kit from the German tuners.