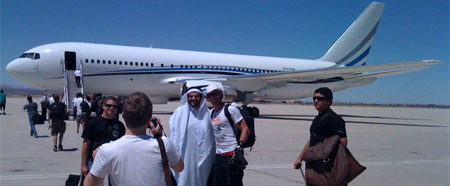 After the first three days of this years Gumball 3000, only 22 teams are still in the 'race' to Beijing. The other teams are relaxing in Las Vegas after their participation in the US leg of Gumball 2008. One of our favorite teams in this years rally, team Driver Side, is still among the 22 teams that's flying to North Korea today to see the mass games, and they supply the world wide web with frequent updates. Meanwhile the Gumball staff is trying to get all 22 cars cleared by the Chinese customs in Hangzhou before the Gumballers arrive in China tomorrow.
Gumball 3000 participants dropping their cars off at the Southern California Logistics airport in Victorville for the cars to be transported to China:
Photos copyright Dan Loveridge
All Asian Gumballers:
Team #007 1993 Jaguar XJ220
Team #009 2008 Rolls Royce Phantom Drophead
Team #010 2004 Mercedes Benz S63 AMG
The team does the China leg only.
Team #012 2008 Audi R8
Team #014 2006 Aston Martin DB9
Team #015 1999 Porsche 996
Replaced the Tesla Roadster for the Porsche 996 Carrera in the Asian leg.
Driver: Ken Howery
Team #016 2008 BMW M5
Team #017 2008 Mansory Rolls Royce Phantom Drophead
Team #018 2008 Porsche 997 Turbo Convertible
Team #019 2004 Ferrari 360 Modena Spider
Team #021 2008 Corvette Z06
Team #022 1960 VW T1 Samba Campervan
Team #023 2008 Maserati Gran Turismo
Team #024 1966 Ford Mustang GT
Team #025 2007 Ferrari F430 Spider
Team #026 2007 Porsche 997 Turbo
Team #027 2008 Lexus 600H L
Team #028 2008 Rolls Royce Phantom Drophead
Team #029 2008 Mitsubishi Lancer Evo 10
Team #030 / KITT 1982 Pontiac Trans AM Firebird
Team #069 2006 McLaren SLR
Team #088 2005 Lamborghini Gallardo
As you can see three teams are still unknown to us. If you have any more information about those teams or pictures of their rides, let us know! For more information on the displayed teams above and a list of all the teams of this years Gumball 3000 rally, visit our Gumball 2008 Teams & Cars portfolio.
Other Gumball 2008 articles: