Team Polizei's Alex Roy, coast-to-coast record holder and Gumball 3000 veteran is driving coast to coast again. This time Alex Roy is joined by Autoblog's Damon Lavrinc and friend Davey Johnson. They are not out to attack Alex Roy and David Maher's record time of 31 hours and 4 minutes from New York to Los Angeles but to test technology for future projects.
This technology includes a live video feed incl. live chat that was also used by Team Arbuckle in the Gumball 3000 and a Google map that is updated real time from the car.
The route of this coast-to-coast drive will be totally different from the record run. The three left NYC this morning at 11:15 EST and are headed down the I-80 all the way from the George Washington Bridge in New York to the Bay Bridge in San Francisco. From there it's only a short drive down to Monterey where they will attend this weekend's Pebble Beach Concours d'Elegance.
The car on this run is Team Polizei's 144B E39 BMW M5 filled with loads and loads of gadgets. The total list of modifications and electronical gadgets onboard is to long to list, but this should give you a hint: L-3 Communications NightDriver thermal camera with two 7″ Alpine LCD dash-mouted displays, a Rear View Mirror-Mounted Speedometer, one Valentine One radar/laser detector, two Blinder M25 Laser Jammers, four Garmin navigation systems, four Uniden digital radio scanners, four scanner antennas, a Whelen Commander Lighting/Siren/PA Controller. The already extensive list of gadgets onboard has been further increased for this trip with a couple TomTom navigation systems, two cameras for the live feed and a highspeed internet connection to submit the feeds to the internet and communicate with the outside world.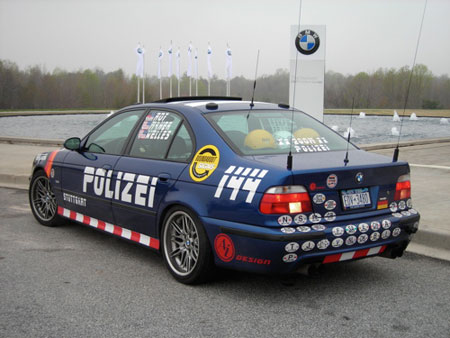 Live In-Car Feed:
Live External Feed:
You can drop questions for Alex Roy in the comments, we will submit them to him and he will answer them on the live feed.
Stay tuned for more updates from the road!