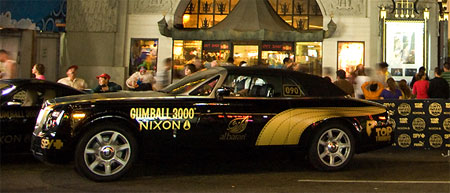 After an easy and according to some slow first day of driving the Gumball 3000 arrived in Los Angeles. Last night Gumball hosted a party at the Tropicana club in the Roosevelt hotel and Gumballers met locals and celebs. Meanwhile the Gumball cars and a large number of show cars gathered crowds on Hollywood Boulevard outside.
Today the Gumballers will leave Hollywood and head out to San Diego. On the way Gumball set up a number of checkpoints including a checkpoint at the SoCal Euro Gathering in San Diego. Between 4 and 6pm tonight the teams are expected to check-in at the Ivy Hotel in downtown San Diego.
Gumball 2008 Day 2 Updates:
Update 1 13:24 PST: Team Arbuckle arrived first at the second checkpoint of the day at HRE Performance Wheels in Vista.
Update 2 13:34 PST: Team Driver Side witnessed the crash of a Ford Excursion on the I-5 and caught the crash on film.
Update 3 14:40 PST: According to Team Polizei the first one to arrive at the 'secret' checkpoint in Rancho Santa Fé was Team Arbuckle in their 2004 BMW 330Ci. They were closely followed by Team Wu in the Lamborghini Murcielago and the Arbuckle allies: Ashley van Dyke and Eric Ward in the Mercedes E-Class (Team #145) who took a different route from the previous stop at HRE Performance Wheels in Vista.
Update 4 15:12 PST: Alex Roy just updated the Gumball 3000 Google Map with the location of the crash and the last checkpoints.
Update 5 15:38 PST: Just got off the phone with Eric Ward of Team Ramp / Arbuckle #145, they are currently driving to San Diego in the Mercedes E-class. With them are Team Arbuckle #111 and Bill and Allen Wu #105 in the purple Lamborghini Murcielago. They are 18 miles out of San Diego and running Gumball 'Old School'.

Update 6 15:45 PST: Bad news for the fans at the SoCal Euro Gathering, Gumball 3000 staff decided to skip the checkpoint there since the whole rally is running behind schedule and they don't want to Gumballers to miss the pool party at the Ivy Hotel.
Update 7 15:55 PST: Eric Ward arrived at the Ivy Hotel in San Diego, Team Wu and Team Arbuckle went to the SoCal Euro Gathering at the Qualcomm Stadium even though the Gumball checkpoint there is cancelled. Eric also reported that a couple other Gumballers that left the checkpoint at Rancho Santa Fé early arrived at the Ivy Hotel and a silver (not chrome) Lamborghini Gallardo was dropped off at the Ivy by a tow truck.
Update 8 17:43 PST: A pack of Gumballers including team Driver Side are being escorted by the police to the Ivy Hotel in downtown San Diego now.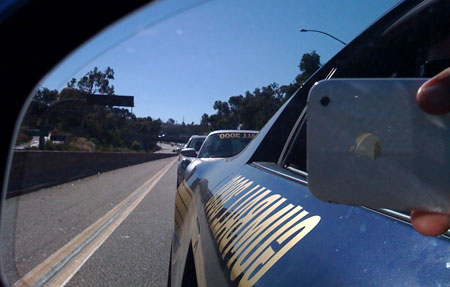 Other Gumball 2008 articles: