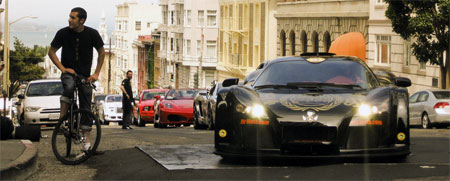 With a 45 minute delay the Gumball 3000 kicked off in downtown San Francisco this afternoon. The first checkpoint of the day is at Buttonwillow Raceway along the I-5 interstate. After a couple laps on the track the rally will continue to the Roosevelt Hotel in Los Angeles. There the cars will be on display at Hollywood Boulevard from 8pm onwards. For a full list of checkpoints and a timetable go here.
Below you can find a number of videos and photos from the start and the latest news from the road, frequently updated.
Gumball 2008 Start Video:
Gumball 2008 Start Pictures:
Pictures Copyright Suikris
Gumball 2008 Day 1 Updates:
Update 1 15:19 PST: Team Arbuckle is #1 to Buttonwillow Raceway, supported by Alex Roy's Geotegic HQ Unit, they arrived at 15:18 PST.
Update 2 16:19 PST: Team Arbuckle is still waiting for most of the other Gumballers to arrive at the Buttonwillow Raceway. There are waiting around in the car because of the heat as you can see on the live video submitted from their car.
Update 3 16:45 PST: Eric Ward joined Jack Wheeler in the Team Arbuckle live feed car. Still only a few cars have arrived at Buttonwillow Raceway.
Update 4 16:51 PST: Ashley van Dyke just reported that she and Eric arrived right after Jack Wheeler and Daniel in the Team Arbuckle live feed car at Buttonwillow. Men's Vogue magazine is travelling with her to Los Angeles. 121 cars appeared at the startline in San Francisco but it remains to be seen how many are doing the whole run or American leg.
Update 5 16:55 PST: A lot of police activity is reported along the highway 101 and Gumballers are pulled over. All Gumballers that took the alternative route via the Interstate 5 made a right choice and stayed out of trouble.
Update 6 17:09 PST: Just got off the phone with Eric Ward, Team Arbuckle came first and second, followed by Bill Wu in the I quote "Bam Margera wannabe" purple Lamborghini Murcielago. The camouflaged Ferrari 360 Modena Spider came fourth. Maximillion Cooper advised all Gumballers to drive down the highway 101 and only those that didn't take the 101 but the I-5 instead arrived at Buttonwillow Raceway early.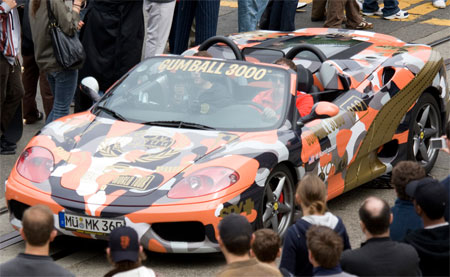 Update 7 17:24 PST: Jack Wheeler just send us a picture of their BMW 3-series coupé that beat the Gumball exotics to the first checkpoint. It's not the first time a BMW proves itself in the Gumball 3000 rally. From 2004 to 2006 Gumball veterans Ant & Pete did very well in their BMW 330d.
Update 8 23:46 PST: The Gumballers arrived at Hollywood Boulevard and are getting ready to party. Unofficially Team Wu arrived first in Los Angeles followed by Team Arbuckle #111 & #145. Stay tuned for Day 2 of the 2008 Gumball Rally!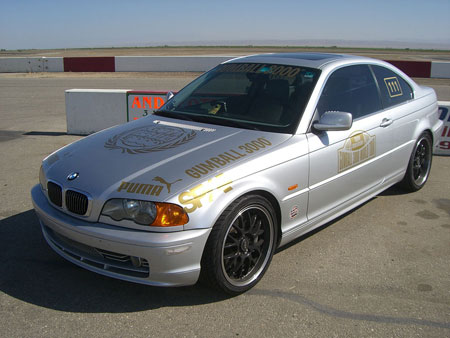 Other Gumball 2008 articles: