RM Sotheby's held their first Porsche-only auction this weekend. It took place at the Porsche Experience Centre in Atlanta, Georgia. The facility was built alongside a west coast centre in Los Angeles. It incorporates a purpose-built driver development track where Porsche customers can hone their skills.
The RM Sotheby's take over event was part of the Porsche 70th Anniversary celebrations. It generated a staggering $25.8 million with a 92 percent sell-through rate. Bidders came from 25 countries around the world. 63 Porsche models were offered and the highest price was a 959 which achieved a staggering $5,945,000.
RM Sotheby's Porsche 70th Anniversary Auction – Top Ten Sales
1. 1985 Porsche 959 Paris-Dakar (CHASSIS NO. WP0ZZZ93ZFS010015) – $5,945,000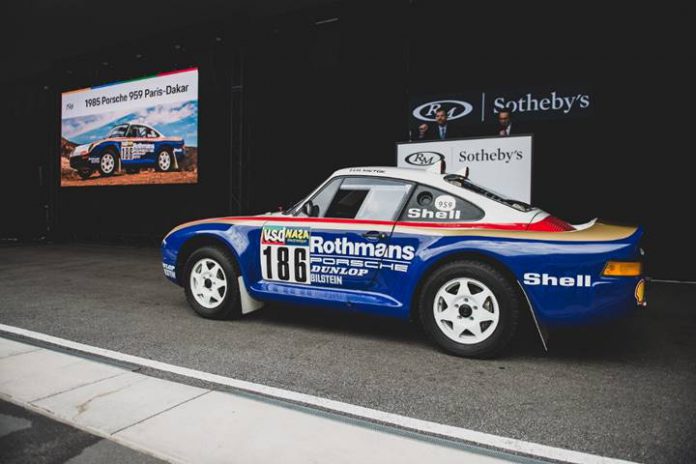 The top sale was the 1985 Porsche 959 Paris-Dakar. Achieving a massive $5,945,000. It was one of just three built to contest the 1985 Paris-Dakar Rally. Porsche produced seven developmental cars, four of which are still retained by Porsche. This particular example was piloted by three-time Paris-Dakar winner René Metge. It nearly doubling its high estimate of $3.4 million.
2. 2018 Porsche 911 Turbo Classic Series "Project Gold" (SERIES NO. 001/001) – $3,415,000
The most anticipated lot, Porsche's restored 911 Turbo "Project Gold" attracted a bidding war between 9 different bidders. The hammer eventually settled on a $3,415,000 winning bid. The proceeds of the sale will all go to the Ferry Porsche Foundation, a non-profit charity in Germany. The centrepiece of the project is its brand new 450 hp, 3.6-liter, six-cylinder bi-turbocharged boxer engine.
3. 2015 Porsche 918 Spyder (CHASSIS NO. WP0CA2A18FS800796) – $1,407,500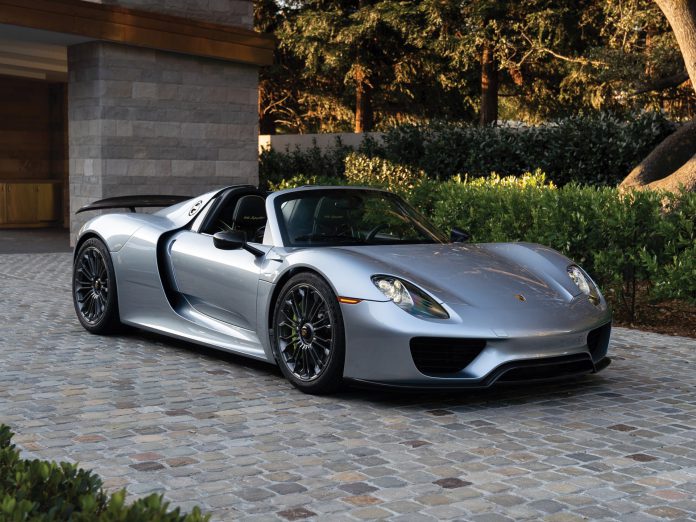 The Porsche 918 Spyder needs little introduction. The latest and greatest Porsche hypercar, it is one of the fastest on the road. This particular example came with a Liquid Metal Chrome Blue paint job. The previous owner managed just 225 miles before shipping it off for the auction.
4. 1973 Porsche 911 Carrera RS 2.7 Prototype (CHASSIS NO. 9113600012) – $1,325,000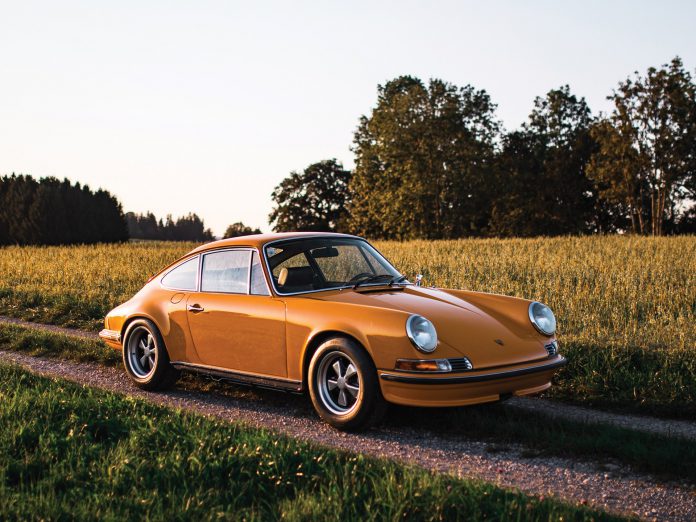 The Porsche 911 Carrera RS 2.7 is a highly sought after car. The Prototype RM Sotheby's secured for this auction proved this. The second built and one of nine prototypes, this particular example was featured in early marketing literature.
5. 1973 Porsche 911 Carrera RS 2.7 Lightweight (CHASSIS NO. 9113601580) – $1,022,500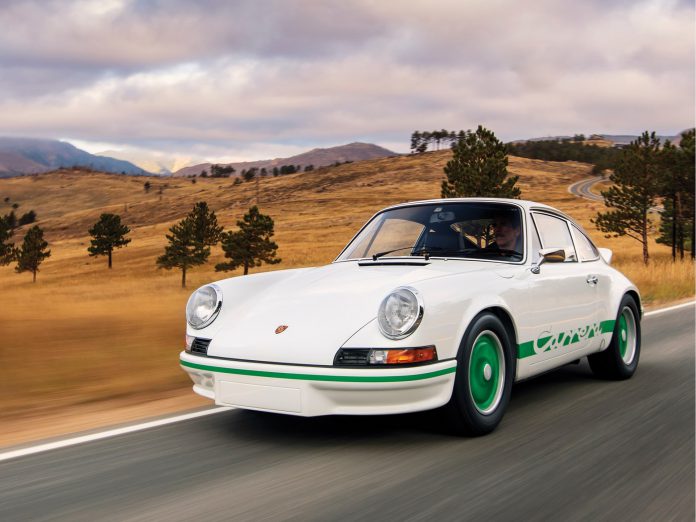 Achieving only slightly less than the prototype, this Porsche 911 Carrera RS 2.7 Lightweight was also in high demand. One of just 200 lightweight "Sport" versions, with period racing history, bidding reached a staggering $1,022,500.
6. 1985 Porsche 959 Prototype (CHASSIS NO. WP0ZZZ93ZFS010007) – $1,000,000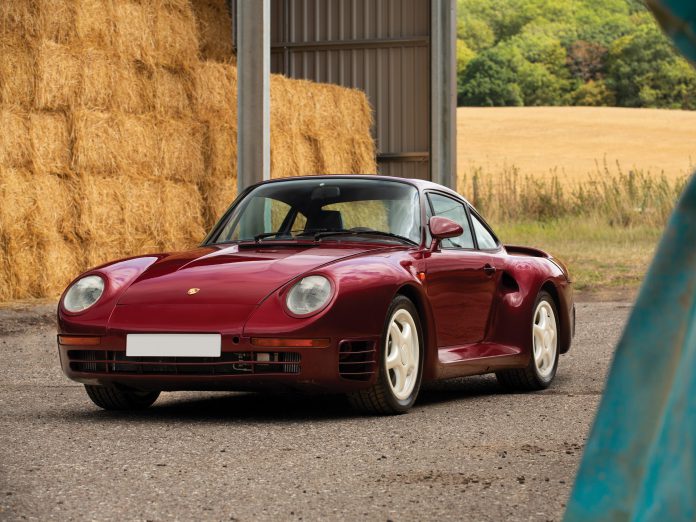 Worth over 5 times less than the headline Porsche 959 Paris-Dakar, this Prototype, one of seven, was used by Porsche for testing and development. It was designated for testing of electrical systems and hot weather testing. Porsche used it on the U.S. West Coast and in Europe, meaning this car directly contributed to one of the 959's unique selling points.
7. 1980 Porsche 935 K4 (CHASSIS NO. 935-K4-02) – $885,000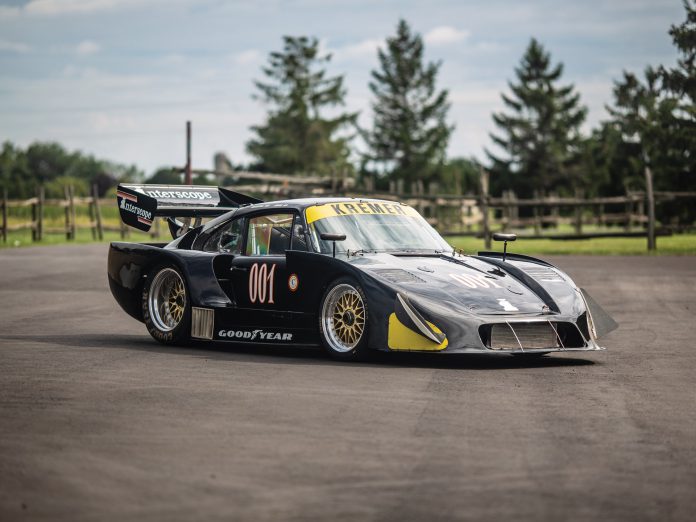 Our favourite, the Porsche 935 K4 was legendary. Derived from the famous 935 "Moby Dick". The Kremer Brothers built this wild Porsche race car. This particular example was the second of two K4's built by them for racing in the early 1980's. It used a a Porsche supplied 3.1L twin-turbocharged Flat six engine producing 800 bhp.
8. 1973 Porsche 911 Carrera RS 2.7 Touring (CHASSIS NO. 9113600463) – $698,000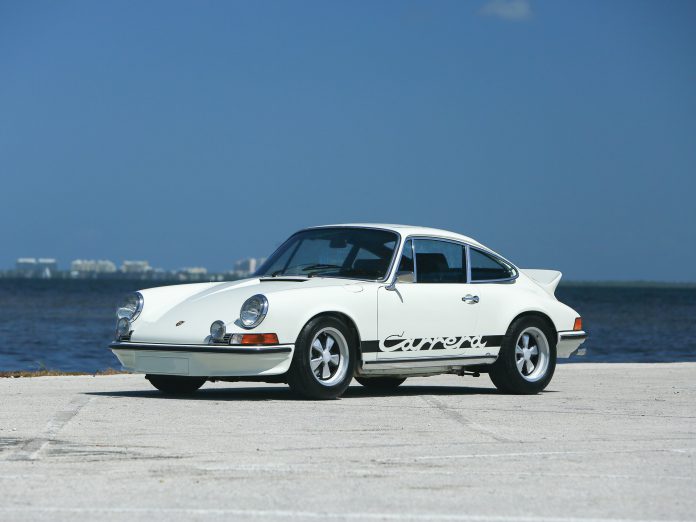 The third 1973 Porsche 911 Carrera RS 2.7 through the auction block also made the top 10. The RS 2.7 was the first road-going Porsche to wear the Rennsport badge, and the first 911 called 'Carrera'. The Touring model was 100 kg heavier and much better equipped than the Lightweight. It was also more widely available, this particular example is one of 1,308 RS Touring.
9. 1996 Porsche 911 GT2 (CHASSIS NO. WP0ZZZ99ZTS393096) – $643,000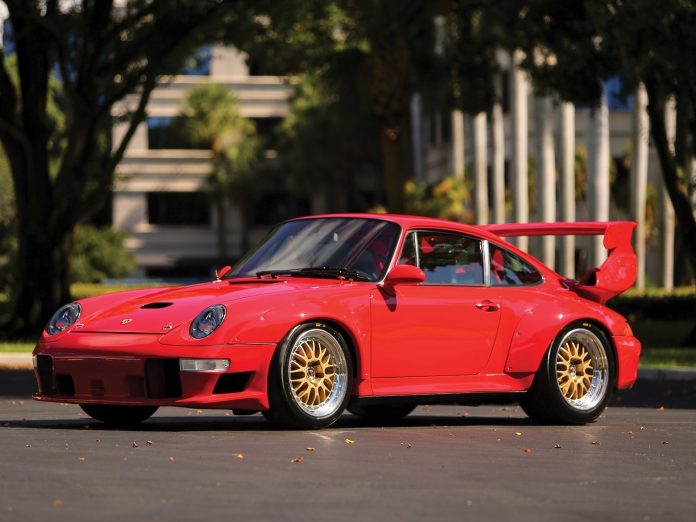 The prices of late 90's Porsche 911 GT2's sky rocketed recently. While road-going models are where the big money lies, the race models are also doing well. This particular example was one of just 79 factory-built racing versions. Comprehensively restored recently, with an engine rebuilt by Bob Holcombe, this GT2 was ready to race!
10. 2011 Porsche 911 GT3 RS 4.0 (SERIAL NO. 009/600) – $566,000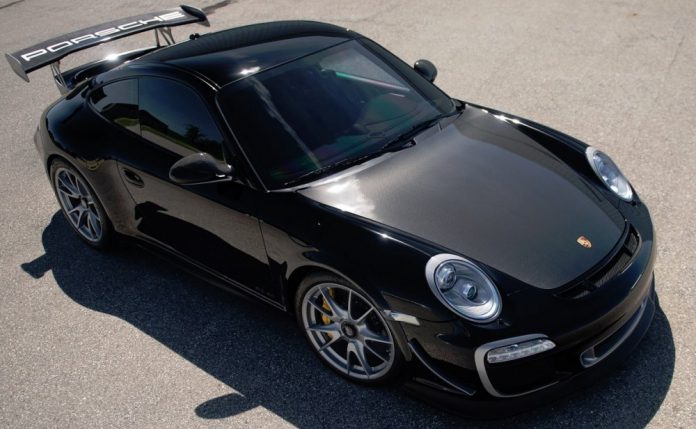 The most sought-after Porsche 997 generation model, the Porsche 911 GT3 RS 4.0 was always going to feature prominently in a Porsche-only auction! It is rumoured that this particular example, built for Porsche enthusiast Jerry Seinfeld, is the most expensive, in terms of specification. In total, it covered 5,000 miles.