Those who are looking to add a little more glamor and style to their Volkswagen e-Golf should have a look at RevoZport's latest 'Razor' offering. The Volkswagen Golf VII Razor 7E conversion for the e-Golf by RevoZport is now available!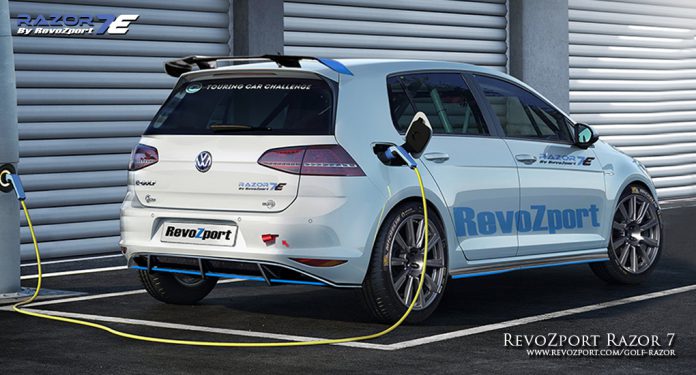 The aerodynamically optimized RevoZport bodykit for the e-Golf brings a newly designed front splitter, bumper canard, side skirts, rear diffuser, and GT roof spoiler to the all-electric VW Golf. All specially designed body parts are made of carbon fiber. The design celebrates the world's first-ever e-Touring Car Challenge that was hosted at the circuit of Formula E Hong Hong ePrix last year.
The show car is finished in a clean white color combined with distinctive blue highlights. The blue also hints at the electric powertrain underpinning the e-Golf, adorning the front splitter, side skirts, rear diffuser, roof spoiler, front grille and headlights. For more information on this Razor 7E conversion package for the Volkswagen e-Golf, make sure to visit RevoZport!