If there's one car company that we love but sometimes overlook at GT Spirit, it's Sweden's own Volvo. It's cars are generally an amenable mix of both sport and luxury but without the snooty arrogance that some luxury car makers deliver. They are GT cars for the middle class, for people who want something different than what their co-workers are all driving, for strong independent thinkers. The V90 T6 Cross Country wagon we drove recently fit that description to the letter.
We'd recently driven Volvo's S90 T5 FWD Momentum sedan, and while it was a very nice, very capable car, it really didn't deliver much excitement. So when Volvo Cars USA asked us if we were interested in driving the new, more capable V90 T6 Cross Country wagon, we weren't expecting much of a different experience from the S90 T5 FWD, but we decided to give it a go. Boy, are we glad we did.
The V90 T6 Cross Country is an entirely redesigned model. At the time we drove it, it wasn't shipping to dealers yet and we were told our car was a early production prototype. It's a handsome car, exhibiting the latest styling details in Volvo's design language. The body of the car sits a few inches higher above the wheels than the standard V90 does. This provides an extra bit of ground clearance and offers a little more height and slightly better view for both the driver and passengers. It looks somewhat aggressive in an off-road sort of way, but also very refined due to the elegant design of the body. Our car came in a color called Maple Brown and it was surprisingly attractive. This is not some hideous 1970's shade of brown, but a very attractive and refined shade of brown probably inspired by hearty maple trees somewhere deep in the Scandinavian north woods. We even got a few compliments from people who liked the color, though as one said, "I never thought I'd say I liked a brown car…but I really like this!" The body styling is very elegant, with no mis-steps in styling. We got many compliments on it over the week we drove it.
2017 Volvo V90 Cross Country AWD
The interior matches the elegance of the exterior. Beautiful leather covers most surfaces, with brown maple accents throughout. The controls are thoughtfully laid out. Buttons are where you expect to find them. Every control has a positive feel to it and feels well-made from quality materials. The front seats are fantastic. They are electrically adjustable, heated and ventilated, and fit with adjustable lumbar support, adjustable side bolsters, and massagers. Yes, you read that right – massagers. My large, long frame and my wife's petite small frame were both immensely comfortable in our respective seats, and on a cold day with the seat heaters on and the massagers rolling up and down our spines, we could have stayed in the car forever. Uber comfortable! The rear seats are also heated and ventilated, and though they don't come with massagers they enjoy an incredible view up through the panoramic full-length sunroof. The only way you couldn't be comfortable in this car is if you were suffering from a knife-attack and on your way to the hospital. The back storage area is large – very large if you fold the rear seats flat – and more useful than many other wagons we've driven. The space is not only wide but also quite tall, which is ideal for carrying all sorts of different cargo.
The engine in the car was a dual-charged inline 2.0L four-cylinder, and put the turbo-only engine in our earlier S90 sedan to shame. Duel-charged means that it's both supercharged and turbocharged. The belt-driven supercharger provides loads of low-end torque that make the engine feel much larger than it truly is, launching the car aggressively from a standstill as if it had a V8 engine. At some indiscernible point, the supercharger begins to run out of steam but the turbo-charger picks up at that point and propels the engine strongly to redline, seamlessly making the engine feel like twice the engine it really is. It's a quiet engine but there's a bit of growl in there, amidst the whistling and whooshing. It's a rather ingenious solution and is absolutely seamless in operation. Stomp on it and the car runs quickly to it's 6000 rpm redline, the eight-speed automatic transmission snapping off shifts quickly and smoothly. The AWD drivetrain does a superb job of putting that 315 hp and 295 lb-ft of torque to the road, making the car surefooted and confident. It never slips or seems to lose traction.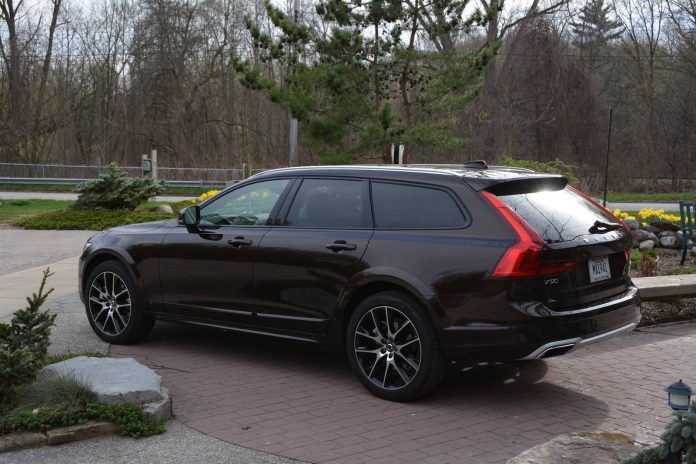 In every day driving, the suspension delivered a smooth, firm – but not stiff – ride with sharp reflexes that inspire confidence. There isn't any float in the body of the 2-ton car. Body motion is very well controlled and the car has a sporting feel to it. On fun backroads the suspension did an exemplary job of remaining controlled and composed, handling the curves with confidence while keeping body motion in check.
The brakes were a bit grabby at first, but were easy to modulate and stopped the two-ton car very quickly with perfect control.
I have to admit, my expectations for this family hauler were exceeded. I really didn't expect it to comport itself so well on back roads, but it was a fun car to push on the hilly, twisty roads I test cars out on. The engine provided great power all the way through the rev range, and the suspension and AWD system allowed me to focus on just enjoying the drive, pushing the car when conditions allowed, and wringing it's performance out.
If the car had a flaw it's that sometimes in a corner, when you got on the gas to exit quickly, you'd find the engine caught out, not quite in the torquey section of the turbocharger yet but beyond where the supercharger makes it's power, which made for a brief lag while the turbo spooled up. It didn't happen often but when it did, you found yourself wishing you really did have a bigger displacement engine. Otherwise, Volvo's dual-charged engine is a smart little motor. In most situations, it feels and acts like an engine twice it's size while providing fuel economy that was fairly impressive for such a heavy car.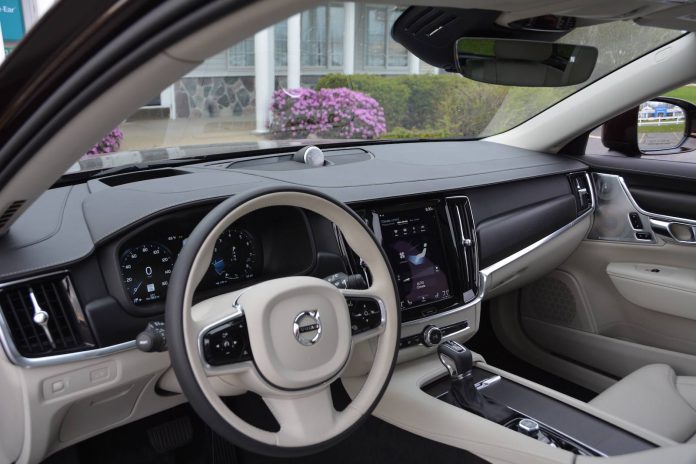 While not marketed as a sports car, if you're in the market for an responsible "adult" car but still want something fun to drive, give the Volvo V90 Cross Country a look. It's responsible enough to haul the whole family cross-continent in absolute luxury or take the executive team to lunch, but it's playful enough that you can tackle fun backroads at speed when you're by yourself. Another great car from Volvo.