Bugatti and Palmer Johnson have been in partnership for the past few years and the yacht builder has now revealed their newest vessel inspired by Bugatti's latest masterpiece, the Chiron. Named the Bugatti Niniette 66, the new yacht falls under PJ's range of 50ft and 80ft yachts. The 'Niniette' name was borrowed from a 1930 one-off yacht built by Bugatti for Prince Carlo Maurizio Ruspoldi.
With an overall length of 20 meters, the Bugatti Niniette 66 has been tailored towards current Chiron owners and superyacht owners as well. Each vessel will follow the Chiron's manner of production, bespoke in nature reflecting the owners wish. With the Chiron, owners are allowed to be part of the production process, the Niniette 66 will be no different.
Bugatti Niniette 66 Yacht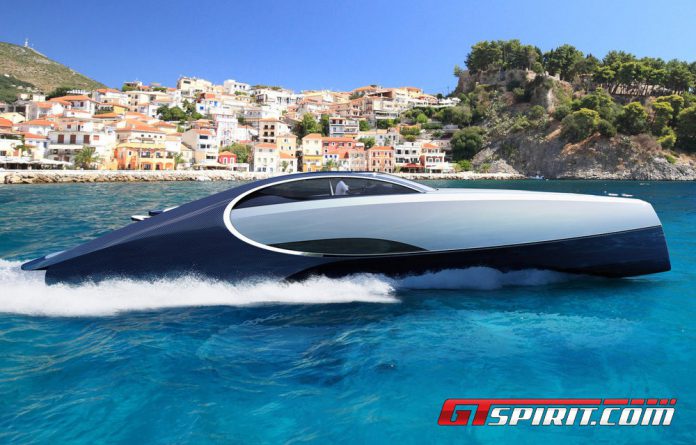 Speaking about the new project, Timur Mohamed, CEO of Palmer Johnson said: "The challenge was to create an experience and a persona as much as a yacht, from streamlined luxury, sophisticated style and unprecedented quality. For owners of tomorrow, Niniette will lift your expectations of life even higher."
There is extensive use of carbon fiber on the Niniette 66, which largely accounts for the structural rigidity as well as low weight. Likewise, the Chiron comes in a range of eight carbon colors namely Black, Grey, Turquoise, Blue, Green, Brown, Red and Bleu Royal. Bugatti positions itself as a world leader in variety of colours and the quality of visible carbon. That said, the options on the Niniette 66 could be limitless when it comes to carbon fiber.
The Niniette 66 comes with massive interior spaces, giving occupants the experience of a large yacht. The open deck comes with a jacuzzi, fire and social place and a bar as well. The master suite sits below the open deck. The yacht has a top speed of 44 knots.