Nissan's luxury marque Infiniti have just revealed their Project Black S concept car based on their Q60 coupé at the 2017 Geneva Motor Show. The radical interpretation of their Q60 coupé was created in collaboration with the Renault Sport Formula One division.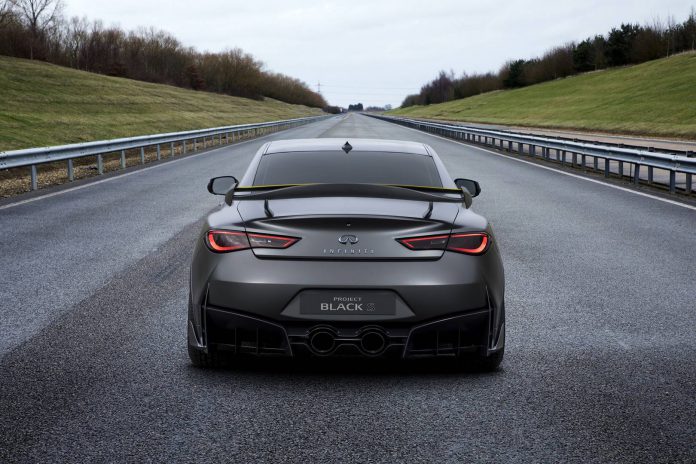 The Project Black S came to life in order to explore the potential for a new Infiniti high-performance model line. Visually it clearly expresses its nature through a stand-out, aerodynamically optimized design. Under the bonnet lays the hybrid power foundation for future performance models featuring an energy recovery system (ERS), which harvests energy and deploys electric power to boost power and torque.
The energy recovery system is a product of the Renault-Nissan strategic alliance, and is supposed to ensure virtually turbo-lag free acceleration. As mentioned before, the system is inspired by F1 technology and does not yet exist in any current road car.
In its Formula One application, the technology employs two types of motor generator unit (MGU) and a battery pack to gather, store and recycle electrical energy. The Renault Formula One race car ERS system features an MGU-K unit to regenerate kinetic energy from braking, and an MGU-H unit – fitted to the turbocharger – to harvest heat energy from exhaust gases.
The harvested energy is then stored in high-rate discharge lithium-ion batteries, which deploy the recovered electric power to rotate the crankshaft and turbocharger turbine blades more quickly. Infiniti sees their Q60 sports coupé as the ideal platform for such hybrid technology. The concept vehicle on display in Geneva boasts a range of other modifications to realize maximum performance, including a new high performance titanium twin-pipe exhaust system, which maximizes the efficiency of air flow.
Auto makers Renault and Nissan are still reaping the rewards of their longstanding 18-year old partnership, with a combined sales of almost 10 million vehicles in 2016. That is a 16.8 per cent increase over 2015 and effectively makes the alliance the world's fourth largest car manufacturer. An additional €4.3 billion in cost savings as a result of synergies and more efficient operations are a testament to the ever thriving relationship between the two manufacturers.
Back to the Infiniti Project Black S, the Japanese luxury marque anticipates that the ERS technology could contribute to a significant 25% increase in power for the brand's new 3.0-liter V6 twin-turbo engine, potentially making it an even more compelling contender in the premium segment if Infiniti decides to move forward with development. It is at this year's 2017 Geneva Motor Show where Infiniti hopes to gauge potential interest in the most powerful Infiniti road car to date.
When it comes to its sporty and aggressive design, drawing eyes on the exposition floors of Geneva shouldn't be a problem. The matt grey concept car stands out on many levels, such as the extensive use of carbon fiber in the car's exterior and the large lightweight 21-inch wheels shod with wider performance tires for better traction. The carbon fiber and aerodynamic body parts play an incremental role in balancing the car's weight due to the extra weight the hybrid system tacks on.
The lightweight material is central to aerodynamic parts such as the front splitter, rear diffuser, fenders and side skirts. Finally the sizable fixed wing at the rear-end is also made out of carbon fiber. The enlarged air intakes at the front are more effective at channelling cooling air into the engine bay and brakes, and new hood vents help evacuate heat.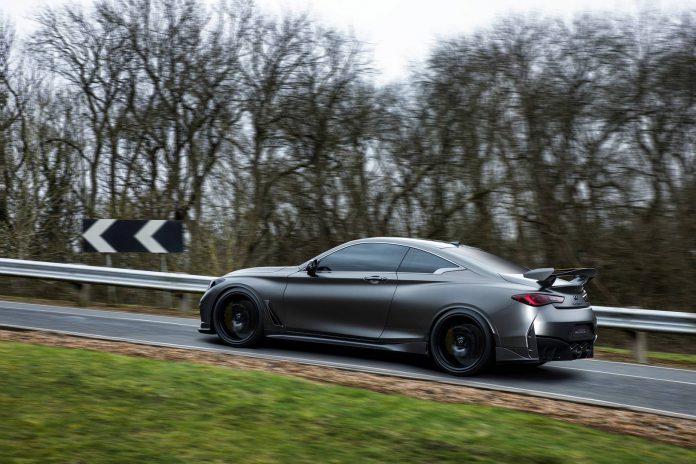 All in all it seems that Infiniti has some serious future potential in their hands with the Project Black S concept car, and we would love to see it make production in a few years from now.