Mercedes-Benz traditionally gives selected media a sneak preview of their Geneva Motor Show highlights the night before the first press day. This time they changed the format and what used to be an intense and packed evening preview with speeches and a press presentation transformed into a laid back afternoon and evening preview called 'Meet Mercedes'.
A great format for us to take a relaxed look at some of their highlights for the Geneva Motor Show 2017. There is only one catch but keep reading to find out what that is. Here is our recap of the Geneva Motor Show Mercedes-Benz media preview with our highlights.
Mercedes-Maybach G650 Landaulet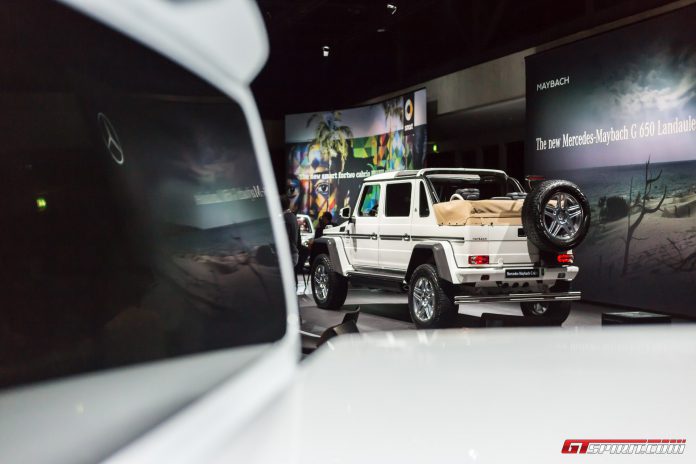 The moment we walked through the doors of the slick event space Mercedes-Benz booked for their preview is the massive and out-of-this-world Mercedes-Maybach G650 Convertible. Our man Jens Meiners already had a first hand experience with this statement on wheels in South Africa but for me this was the first time to have a closer look at the car.
And what a car it is! Equipped with the G65 V12 engine it is not only mega powerful but also lavishly equipped. The rear passengers have their own private compartment with a window between them and the driver that can be closed at the tip of a button. At the same time the roof can be lowered to get the perfect convertible feel. A automatic step board extends down to ease getting in and out of the car. This is not a car for the shy and is meant for those who want to make a bold statement on the streets of Dubai or London. Parking will not be easy but will the customers really care?
Mercedes-Benz E-Class Convertible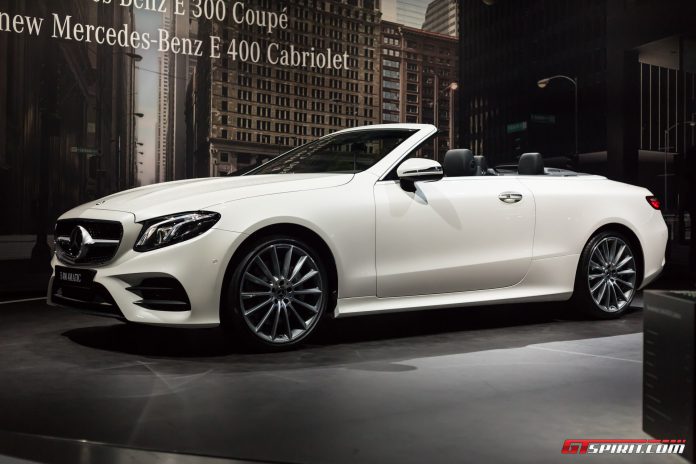 The real 'Benz' premiere in Geneva comes in the form of the E-Class Convertible. Wider, longer, more spacious and better equipped than ever it will arrive at dealers this Summer. The new interior is very similar to the E-Class Sedan and features a double digital display that shows all the key info. The luggage space is increased and for extra comfort the separation that protects your luggage now closes automatically. The rear especially gives the car a wide presence and features the vertical air vents that can also be found on the C63 convertible. Overall a stunning convertible that we can't wait to drive to the beach soon.
Mercedes-Benz AMG GT C Roadster Edition 50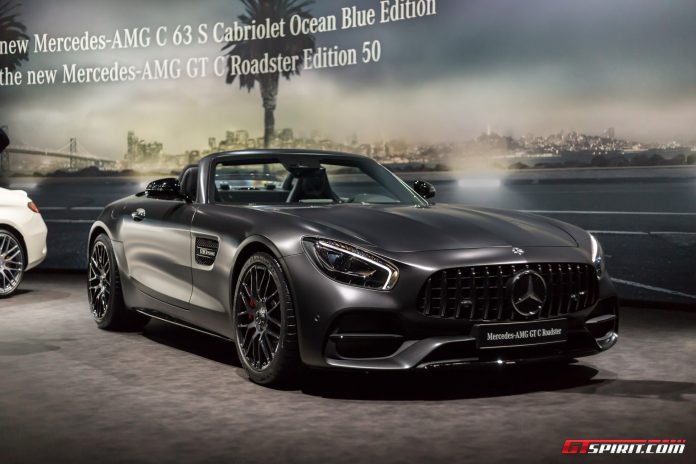 In case you didn't know Mercedes house 'tuner' AMG was founded in 1967 which makes 2017 the year of the company's 50th anniversary. To celebrate the company based in Affalterbach created several special edition 50 models. Tonight we could see a matt grey 50th Anniversary GT C Roadster with the new panamericana grill and an great overall stance. Limited to 500 pieces it includes special blacked out LED lights, special paint colors, Nappa leather and more unique trim options. Stay tuned for a full review on the GT C Roadster and the other AMG GT convertibles later this month.
Mercedes-Benz X-Class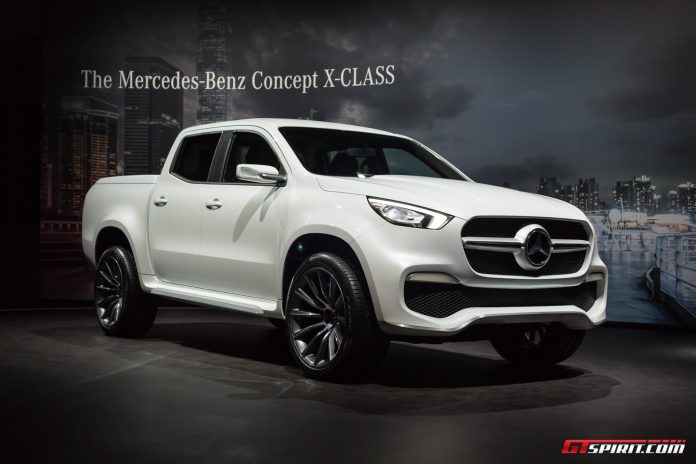 Last year Mercedes-Benz showed their pick-up truck dubbed the X-Class at a special event in Stockholm, Sweden. Today one of the two concept models presented in Sweden celebrates it's Motor Show pre-debut. This cool white metallic luxury pick-up dubbed the 'styling explorer' is the most luxurious in terms of trim. The other variant shown in Stockholm is more focused on adventure and exploring. This is a first design example so the interior is not production spec but in general we can get a pretty good grasp of what Mercedes-Benz wants to add to the pick-up segment and that is some decent luxury. For engine a V6 Diesel with 4Matic is imagined. The base platform is shared with the Nissan Navara but components like the engine, gearbox, sensors, assistance systems and infotainment all come from Mercedes-Benz's own warehouse.
Mercedes-Benz Aesthetics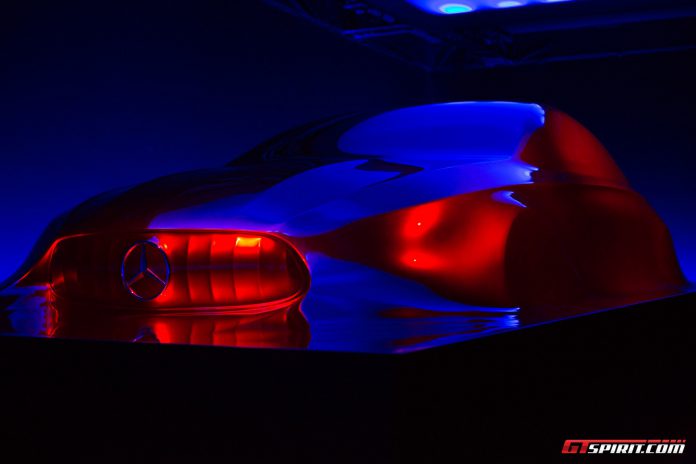 Mercedes-Benz Chief designer Gordon Wagener also brought something to Geneva; a design sculpture showing hints to the design of future Mercedes-Benz design. Gordon Wagener is a fan of what he calls aesthetic purity and this is his cleanest example yet – sleek lines with masculine shoulders and a present front grill. This design sample represents the lines of a new compact car in it's cleanest form.
Mercedes-Benz Geneva 2017 Media Preview in Pictures
Other cars on display include the Mercedes-Benz GLA 220 4Matic, which celebrated its world premiere at the 2017 Detroit Auto Show a special edition C63 Cab dubbed the Mercedes-AMG C63 S Cabriolet Ocean Blue edition with a eye catching blue roof and some blue details including front splitter, rear diffuser, special stitching, IWC clock and blue wheel caps – the latter the car could do without though. Also on display is the E-Class Coupe which we will directly after the Geneva Motor Show will have the chance to drive – so stay tuned for a full update. Last but not least the Brabus Smart fortwo Cabrio Edition #2 also made a quick appearance. You will also be able to city this little city rocket at the Brabus stand during the Geneva show in Palexpo that opens its doors from 9 until 19th of March 2017.
Overall this year's Mercedes-Benz media preview was a relaxed event with plenty of opportunities to have a good look of some of the Mercedes highlights presented at the Geneva Motor Show. As I mentioned in the intro there is one catch – one of our most anticipated premiere of the Geneva Motor Show 2017; the Mercedes-AMG GT Concept – a very sporty four door coupe – was not here tonight and will be unveiled tomorrow morning.

For more news from the Geneva Motor Show and individual articles of Mercedes-Benz cars we saw tonight make sure to subscribe to our mailing list or bookmark our dedicated Geneva Motor Show 2017 News channel.