German tuners Manhart are known globally for their sensational projects that result in some of the most radical BMWs around. Manhart's latest project is based on a car that many, including Jeremy Clarkson, have hailed as one of the greatest M cars in history, the BMW M2. In typical Manhart fashion, the team have worked endlessly to make sure the car takes the awesome stock driving characteristics and take them to extreme new levels.
The results, as you can see, are jaw dropping – meet the Manhart MH2 630 BMW M2. Let me begin with the muscular exterior. BMW offer a line of M Performance parts made of carbon that Manhart have opted to install onto the MH2 630 in the form of the rear diffuser, side skirts and rear wing. To further enhance the visual impact they have crafted their own front splitter and bonnet with air vents, both also made of carbon. The car also sits lower on a set of Manhart Clubsport 3 way by KW springs that also aid handling. The wheels are Manhart Concave ONE.
It is not just style without substance. The 630 in the cars new name refers to the power output in PS. That's a staggering 620 horsepower combined with 750 newton meters of torque. I have been fortunate enough to drive the standard M2 around Laguna Sega Mazda Raceway and can confirm that the stock 365 horsepower was fantastic. The significant increase in power and torque must make the MH2 a beast to drive. One thing I did feel could have been improved were the M2s brakes. Manhart have addressed this with Kolben ceramic brakes front and rear.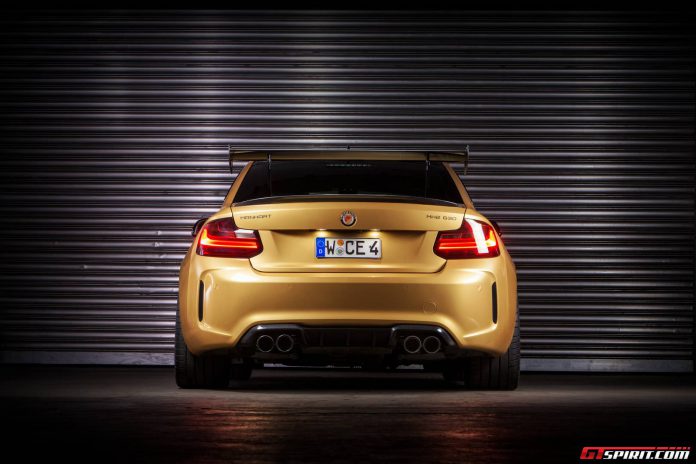 The engine is the same unit S55 but is BiTurbocharged and has been fitted with the M4 DCT Gearbox. There is a bespoke performance remap, water intercooler and turbo upgrade – all by Manhart. In addition, a carbon air intake and raucous Manhart Steel Exhaust with 90mm rear carbon mufflers.
The interior has not been neglected either. The majority of surfaces are clad in Manhart Leather-Alcantara Interior with gold stitching that make the interior much more special than the stock car. There is an alcantara stering wheel and Recaro Sportster CS Seats that complete the sporty and focused look.
It goes without saying that this is one of the most special and astonishing BMW M2s on the planet!