The Jaguar F-Type has undergone something of a facelift this week. New technology, power boosts, a new special edition and a general cosmetic update. It should be on sale from the first quarter of 2017, we suspect an official unveil at the upcoming Geneva Motor Show 2017!
The new Jaguar F-Type range will include a standard F-Type Coupe and Convertible model with a 3.0 litre V6 and a choice of 340 hp or 380 hp, all wheel drive being available for the later. The next step up features the same engine and power figures but is named the F-Type R-Dynamic; available in both Coupe and Convertible. Both entry level models are available with a manual gearbox for rear wheel drive options only.
The next step up is the F-Type 400 Sport, available in both Coupe and Convertible with a 400 hp 3.0 litre V6 and a choice of rear wheel drive and all wheel drive options. Customers will be able to choose this model worldwide for a single year. Both the F-Type R and F-Type SVR continue to use the 5.0 litre V8 with 550 ho an 575 hp respectively and all-wheel drive only.
Jaguar's design team have worked on differentiating the model range. Each model gets its own specific front bumper. The shape of the grille remains unchanged. In place of the predecessor's double vents, the new F-Type features single apertures with a mesh design. R-Dynamic models gain Gloss Black bezels together with the front splitter, bonnet vents, side sills and rear diffuser. The R gets a horizontal blade to differentiate it from the rest while the SVR retains a huge opening to increase air flow.
The LED headlights retain the J-Blade daytime running lights. The daytime running lights now double as the direction indicators. The LEDs has a colour temperature of 5,500-6,000K, making it similar to natural daylight. It features an intelligent system which switches between four main driving modes: City, Country, Motorway and Bad Weather. The LED rear light clusters have been subtly updated too.
The F-Type 400 Sport includes the Super Performance braking system, Configurable Dynamics and 20-inch wheels with a unique Dark Satin Grey finish as standard. Distinctive Yellow and Dark Satin Grey 400 Sport badges indicate what it is. Colour options will include Indus Silver, Santorini Black and Yulong White metallic paint. Yellow contrast stitching features throughout the cabin.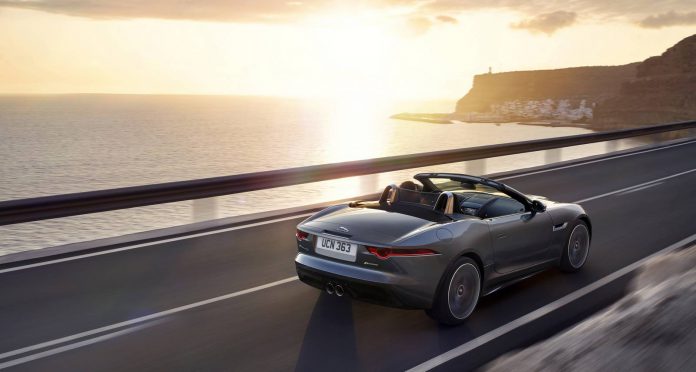 Inside, there are new lightweight slimline seats together with new chrome and aluminium trim finishers. Jaguar have broadened their option list with Siena Tan leather now available across the range.
One major feature of the F-Type revamp is a new Touch Pro infotainment system. Jaguars have long suffered a series of disappointing infotainment solutions. The new system promises fast responses, intuitive tablet-style operation, intelligent navigation functions and online services.
Jaguar have also collaborated with GoPro for the new ReRun app. ReRun apparently combines real-time video from the driver's GoPro with key vehicle performance data including speed, throttle position, gear selection, braking force and g force. The content can be downloaded to the driver's smartphone providing Facebook content galore! The F-Type also gets a semi-automated park-assist function.