Defending Formula E champion Sebastien Buemi kicked off season 3 of the all electric racing series in style by winning round 1 in Hong Kong. The Hong Kong e-Prix was attended by a record 30,000 spectators where the Renault E.Dams driver scored a hattrick by utilizing an effective pitting strategy that allowed him and his team to take an early lead in the new season.
ABT Schaeffler Audi Sport celebrated second place on the podium courtesy of Lucas Di Grassi who thanks to an amazing pitwork by his team managed to climb from 19th to second on the grid. Third place went to Nick Heidfeld of Mahindra Racing making it an even podium for the first race of the season.
NextEV driver Nelson Piquet Jr. started from pole and managed to lead through the first turn, closely followed by teammate Oliver Turvey, who was under heavy attack by Buemi and Sam Bird. Multiple contacts took place further back, resulting to the retirement of local driver Ma Qing Hua. Both ABT cars were called in to repair damages, Di Grassi had a broken nose.
DS Virgin teammates Bird and Jose Maria Lopez were next to make contact, enough take out the WTCC veteran. Piquet meanwhile had to brake hard into the escape road to avoid hitting Lopez, only to rejoin in third behind Bird and Buemi. At this point, Renault called Buemi into the pits, a strategy that proved beneficial as he managed to undercut Bird by taking the lead. Bird was delayed at the pits, another reason why Buemi managed to get away.
Formula E Hong Kong - Season 3 Opener
Buemi was left with a very strategic Di Grassi who benefited from his team's epic pitwork, the Audi sailed all the way to the finish line in second.
"It just shows that the ABT Schaeffler Audi Sport team never give up. We had a pretty good start and first lap, but then I think Ma crashed into someone and then I crashed into the crash. The nose was broken and I had to come in and I thought the race was finished. But the mechanics did a fantastic job to keep me on the lead lap. I thought I was just going for fastest lap but the team said 'no, no, no… we keep pushing' and then the safety car came out…" said Di Grassi.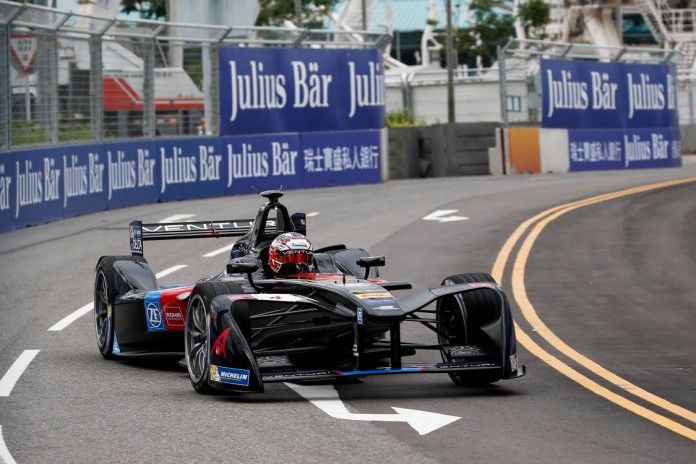 Nico Prost finished fourth for Renault, allowing them to take an early lead in the standings with 37 points. ABT and Andretti tie in second with 18 points, Mahindra is fourth with 16 points while NextEV Nio is fifth with 7 points.
Fifth place went to BMW DTM driver Antonio Felix da Costa leading Blancpain GT driver Robin Frijns – both racing for Andretti team. Frijns car was built from scratch after crashing during qualifying. Farady Future Dragon Racing came in seventh thanks to Jerome D'Ambrosio who managed to climb from 18th place on the grid.
The Visa Fastest Lap was handed to DTM rookie Felix Rosenqvist racing for Mahindra in Formula E.
The next round will head over to North Africa on November 12 for the very first Marrakesh ePrix. Marrakesh has hosted several FIA events including WTCC.