Further diversifying the AMG GT portfolio, Mercedes-AMG officially released the open-top version of their current flagship sports car today. The Mercedes-AMG GT C Roadster joins the GT, GT S and recently unveiled hardcore GT R.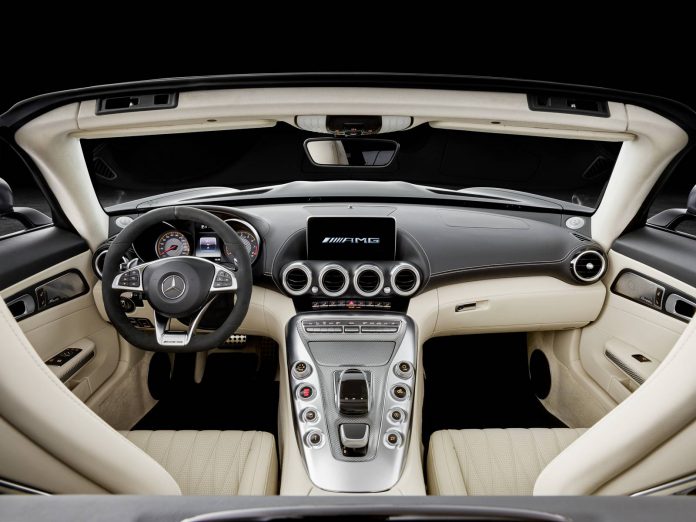 The Mercedes-AMG GT C is meant to stand as a model on its own, while at the same time Mercedes-AMG introduces a roadster version of their 'regular' AMG GT. The new GT C is the more powerful roadster in the AMG two-seater line up producing 557 hp (410 kW) and 680 Nm of torque. The hot new roadster will additionally borrow several technical refinements and characteristics from the more track-oriented GT R.
These 'technical refinements' include active rear axle steering and an electronically controlled rear axle locking differential. The GT C design takes more inspiration from the GT R's in terms of proportions, featuring wider rear wings and wider wheels at the rear axle, improving on-track performance.
The Mercedes-AMG GT Roadster is very much based on the AMG GT with an output of 476 hp (350 kW) and quite clearly represents the more civil one of the two new roadsters. The GT C (557 hp) however get's an entire performance standard of its own, finding itself in the spectrum between the AMG GT S (510 hp) and the top of the range AMG GT R (585 hp).
2017 Mercedes-AMG GT C Roadster
While both roadsters get the same AMG SPEEDSHIFT DCT 7-speed dual-clutch gearbox, the one in the GT C is further tweaked through software updates giving the first gear a higher ratio. The GT C's top speed is set at a mesmerizing 316 km/h while the GT Roadster is very capable too topping out at 302 km/h.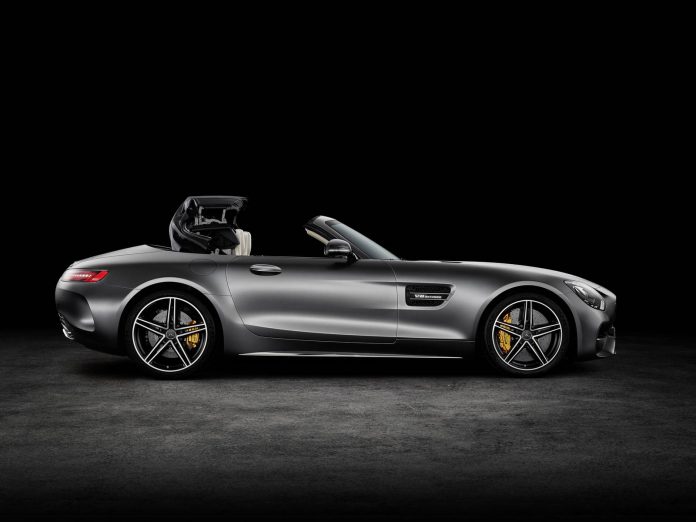 The GT C will be recognizable by its wider stance adopted from the more aggressively styled GT R and will be much more exclusively styled as standard. It will pack a lithium-ion battery and Nappa leather interior as standard, just as the well known 'race mode' that maximizes on-track performance by switching the AMG DRIVE SELECT knob.
Both new roadsters boast a fully automatic fabric soft top which opens and closes in about 11 seconds at speeds up to 50 km/h. Similar to convertibles from other Mercedes-Benz model ranges customers can choose between three different soft tops including black, beige and the more contrasting red. To optimize performance, the three-layered soft top is supported by a system that combines the materials magnesium, steel and aluminum.
Adding the two roadsters to the AMG GT portfolio brings Mercedes-Benz' offering in that segment to a total of five models. Both new roadsters will be on display at this year's Paris Motor Show, for more information please go here. Now check out the gallery below and let us know what you think about the latest additions to AMG's top tier portfolio!
Mercedes- AMG GT C Roadster (R 190), 2016