As you have undoubtedly noticed, the 2016 edition of the Gumball 3000 is well underway as the teams travel from Dublin to Bucharest.
While the crash of the Gumpert Apollo on day 1 of the rally is gathering most of the headlines so far, there is another supremely interesting story surrounding this years event. Those of you who follow the rally closely will probably know what we are talking about – Team Galag's Arkham Knight Tumbler!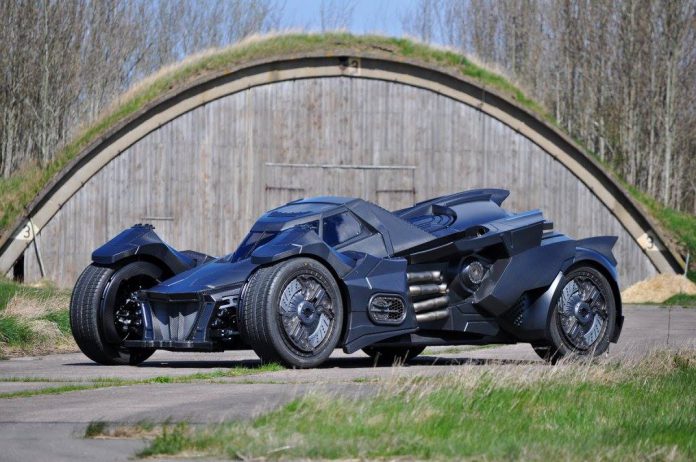 While the Gumball is certainly known for its outlandish and expensive automobiles, the Arkham Knight Tumbler certainly takes the prize as one of the most outlandish and crazy rides to ever have competed.
The custom-made Tumbler is based on the Arkham Knight video game and was custom built by Caresto.
Team Galag Arkham Knight Tumbler
Caresto offered some details on the Tumbler for those wondering how such a car was built.
"Front and rear suspensions are fully independent and made with double wishbones connected to the coil over shock absorbers, up front through a special designed aluminum push rod.
To power the car, we have used a 560hp V 10 engine connected to a paddle shift gear box affecting the 26" wheels. To stop the car we have used ABS supported 8-pot Brembo calipers in front and 6-pot in rear all connected to big brake discs.
The complicated all carbon fiber body has been made from full scale moulds which are milled out from the CAD drawings. A lot of effort has been made to the design of the drawings and moulds. This to get the correct stance with full working systems and parts that will work together.
Inside the car the driver and the passenger can enjoy the interior in a combination of black soft leather and "see trough" fabric, all kept together by golden stitches.
The interior lights up in seats, floor and pedals when the cockpit opens up fully electrical operated.
All comfort functions such as climate system, power steering, fantastic sound system, etc helps to make this car a comfortable driver, even that the look is hard as steel."
Check out the full gallery of the Tumbler and let us know what you think in the comments!