We often write about some of the most impressive, eccentric and elegant tailor-made creations by Audi Exclusive in Neckarsulm, Germany. At the headquarters of Quattro GmbH resides a showroom and restaurant where typically customers are invited to co-design and configure their Audi according to their wildest imaginations.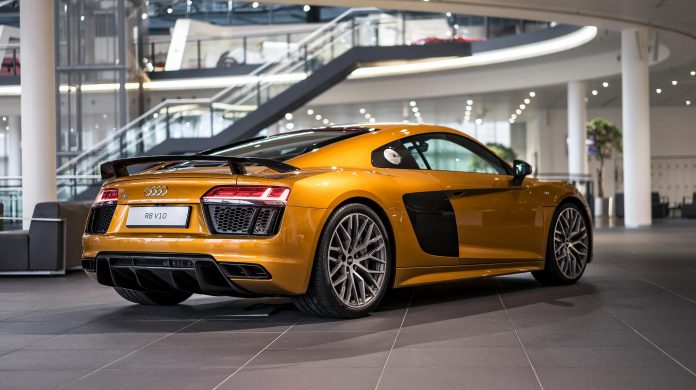 Not always, but occasionally some of these wild and uniquely configured cars are temporarily on display at the Audi forum in Neckarsulm until they are picked up by their respective owners. In today's edition, an "Orange Perleffekt Audi R8 V10 Plus". The "Perleffekt" of course resembles the beautiful orange color tone on this Audi R8, as "Perleffekt" is German for "Pearl effect".
The exterior color of the 610 hp strong supercar goes exceptionally well with the gloss black and carbon finished components. Especially at the rear, where many different components are made out of carbon fiber such as the rear spoiler and diffusor, a nice contrast between the orange and blacked-out parts is created. The bespoke wheels emphasize the car's aggressive stance even more, although black wheels wouldn't have looked too bad either.
On the inside we again meet the orange tones to match with the R8's exterior and there is also an abundance of carbon fiber. We find the orange back in the steering wheel, doors, quilted seats with contrasting stitching, mid-console and the contrasting topstitching on the all-around leather interior. Make sure to check out the gallery below and let us know your thoughts on this exclusive Audi R8 V10 Plus!
Orange Perleffekt Audi R8 V10 Plus