The much anticipated world debut of the Jaguar F-Type SVR took place earlier this month in Geneva. Now the brutal looking F-Type SVR showed up for its US debut at the 2016 New York International Auto Show. We took the opportunity to take another detailed look at one of the latest creations coming from JLR's Special Vehicle Operations (SVO) division.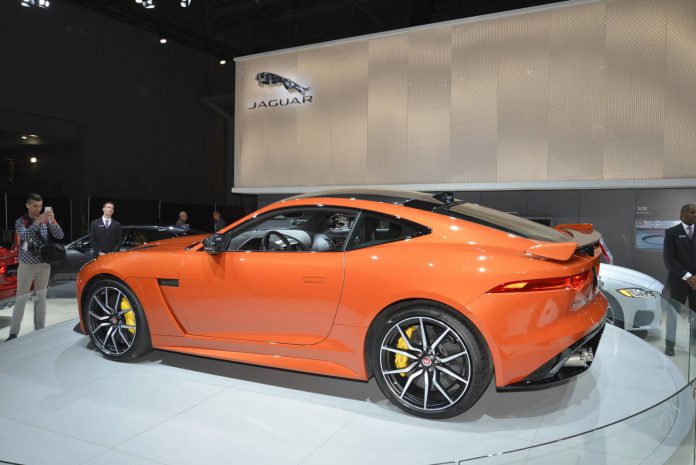 The Jaguar F-Type SVR can be differentiated from the regular F-Type variants through its slightly more aggressive stance as a result of an upgraded aerodynamics package. What really sets the SVR apart from its siblings is of course the power upgrade, the supercharged 5.0-liter V8 has been fine-tuned to produce 575 hp and 700 Nm of torque. That is 25 hp more than the previous range-topping F-Type.
The performance upgrade translates to a 0-100 km/h time of just 3.7 seconds, which is a 0.2 second increase over the previous F-Type record. To go with the additional performance, safety and security is everything which is why the SVR comes with carbon ceramic brakes as standard. The fancy braking system also plays a large role in the SVR's weight saving program, saving a total of 21 kilograms. Additional weight savings are attributed to a new lightweight titanium exhaust system saving 12 kilograms and forged aluminum wheels saving a further 10 kilograms of weight.
Combine the significant weight savings with the increased performance and the result is potentially the fastest Jaguar every built. However, chances of you owning one are very unlikely as the production limit is set at just a mere 250 units. Going on sale this summer the lucky few that manage to get their hands on one will surely not be disappointed. Because what can be better than one of the best sounding cars currently on the market that is capable of doing 320 km/h+?
For full details on the Jaguar F-Type SVR, make sure to read our earlier article. Stay updated on our coverage of the 2016 NYIAS by visiting the dedicated news channel.