Manor Racing Team has finally revealed their 2016 Formula 1 car, an all new MRT05 which the team says is the best car they ever made. As opposed to many 2016 F1 challengers which received only minor upgrades over the 2015 challengers, the MRT05 is an entirely new car with 3,393 new parts. Additionally, they have switched from a Ferrari power unit to a new Mercedes power unit joining Williams F1 and Force India, while replacing Lotus (now Renault F1).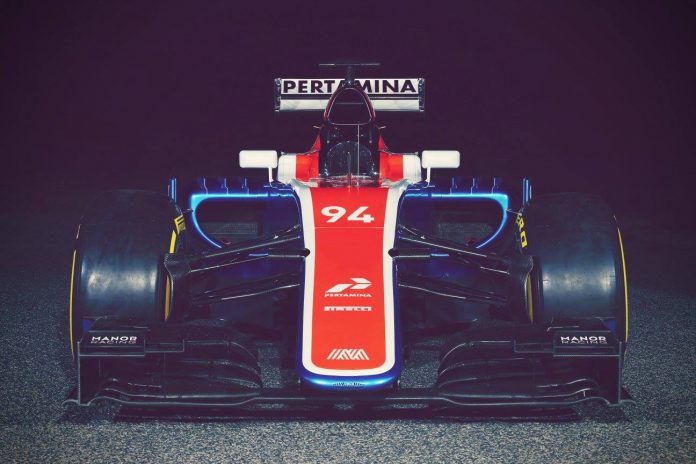 The new Manor Racing MRT05 has made its track debut this morning at the Circuit de Barcelona-Catalunya in Spain where the pre-season testing is taking place. Manor has an all new driver lineup for 2016 that includes DTM star and Mercedes-AMG protege, Pascal Wehrlein and Rio Haryant from Indonesia.
Pascal, aged only 21 is the youngest driver to ever win a DTM championship, he claimed the 2015 title while driving for Mercedes-AMG DTM. Haryant on the other hand is the first ever F1 driver from Indonesia, he has previously raced in the Asian Series, GP3 Series, Auto GP and GP2 Series.
The team is now confident that they have what it takes to move up the grid in the 2016 championship. They managed to redesign almost every part of the new car while leveraging technical knowledge from their racing experience as well as through partnerships with Mercedes-AMG and Williams Advanced Engineering.
See Also: 2016 Haas VF-16 F1 Car and 2016 Force India VJM09 F1 Car
Quotes:
Manor Technical Director John McQuilliam: "Absolutely. Even at this early stage of the game, we can easily say this is the best car we've ever launched. Certainly the most developed, the most ambitious and the most aggressive. The overall package is a very significant step forward, not just from last year, but from any of the cars from our stable. So yes, we have a long way to go from here in terms of developing the MRT05, but it's already a dream package for the 154 Manor Racing people who've worked so hard to design and build it. In a small team like ours, every single individual has played their part."
Racing Director Dave Ryan: "It's been a very busy time, but it has really served to underline everything I thought when I first agreed to join the team – a great little operation, with huge potential and the vision and ambition to make a big step forward. There was a lot to do to prepare for this season. The team did a laudable job last year given its circumstances over the previous winter. This year, with the package we have, we need to be every inch the professional racing outfit. That's where I've been focusing my attentions."