"If it ain't broke, don't fix it" is the bold statement by Force India's Team Principal, Vijay Mallya regarding their new Formula 1 challenger, the VJM09. The car retains colors from the 2015 season and the team is confident that they are on the right track after finishing fifth in the constructors' standings last season – best season for the Indian licensed team so far.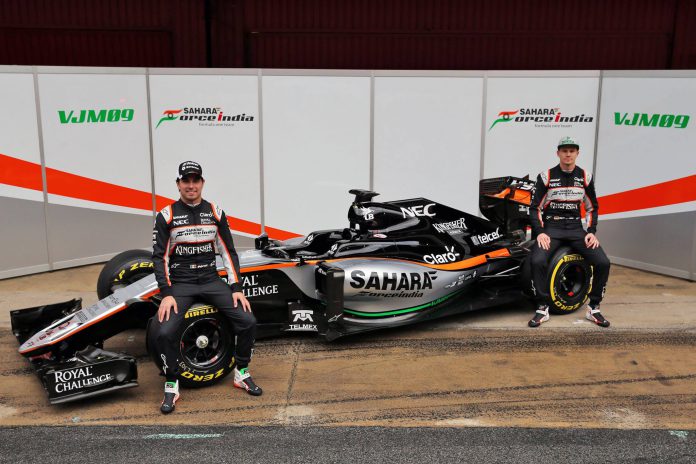 The new Force India VJM09 benefits from improvements of the b-spec chassis used on the 2015 car. As the rules remain stable throughout the 2016 season, there was only little to be done in terms of technical changes. Furthermore, the b-spec performed incredibly well in 2015 including a podium finish at the Russian Grand Prix where Sergio Perez finished third.
The new car has joined other challengers today at the pre-season testing in Barcelona ahead of the first race – the Australian Grand Prix – on March 20. Driver lineup remains unchanged for the 2016 season, Sergio Perez will team up once again with Nico Hulkenberg.
The team also performed a number of wind tunnel tests in Cologne resulting to significant gains that should reflect on its aerodynamics just in time for the first race in Melbourne. Mercedes-AMG confirmed that all cars using the Mercedes PU106C power unit will get equal upgrades, including the AMG W07.
See More: 2016 McLaren MP4-31 F1 Car and 2016 Ferrari SF16-H F1 Car
Quotes:
Technical Director, Andrew Green: "You can say the b-spec car from last year formed a basis on which to build our 2016 one. We were in a situation in which the performance on track was very good, and in which the data we were getting correlated well to what we were expecting, so we knew we could continue to develop on a solid platform. With the regulations likely to change for 2017, it didn't really seem like an efficient use of our resources to start from scratch on a project that would have such a limited lifetime."
Team Principal, Vijay Mallya: "The colours reflect our partners and heritage. Although I'm biased, I think our car is one of the best looking on the grid and that's why I wanted to keep a consistent look for 2016. As they say, if it ain't broke, don't fix it.
"I want us to begin 2016 in the same way that we ended 2015. Our technical team is excited about the progress we have made over the winter and there's every reason to believe we can stay at the front of the midfield battle."