McLaren has today revealed their 2016 Formula 1 challenger, the McLaren MP4-31. The car has a new power unit from Honda after the two parties renewed their partnership for the 2016 F1 season.
The McLaren MP4-31 will make its official track debut tomorrow in Barcelona when the pre-season testing commences. McLaren Technology Group CEO, Ron Dennis is confident about the new car and praises his team for their tireless efforts throughout the testing processing.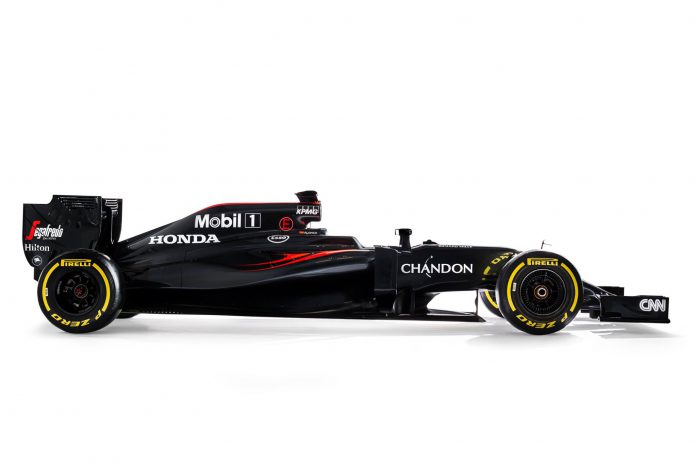 After a constrained 2015 season where Honda struggled with the power unit, they are now ready to embark on a new victory campaign having made key changes to the compressor and hardware. During testing, they will evaluate the car's balance on the new chassis as well as the power unit.
The MP4-31 electronics are supplied by McLaren Applied Technologies including the power unit control, data acquisition, sensors, data analysis and telemetry and chassis control. The new Honda power unit, internally known as RA616H weighs only 145 kg and revs to 15,000 rpm. It can achieve a speed of 200 km/h in under 5 seconds.
The chassis is made of carbon-fibre composite resulting to an overall vehicle weight of 702 kg including the driver. Other parts such as the nose, front wing and rear wing, engine cover, sidepods and floor are also made of carbon-fibre composite. Meanwhile, the front suspension uses pushrod activated springs while the rear suspension gets pullrod actuated springs.
See Also: 2016 Mercedes-AMG F1 W07 Hybrid and 2016 Ferrari SF16-H
As the second oldest active F1 team (behind Ferrari), McLaren has a tremendous record in the history of the sport. They have taken part in 786 Grands Prix and managed to accumulate 182 race victories. They also have 9 constructors' championships and 12 drivers' championships, the 1988 season was one of their most successful when they set records (still unbroken) for most consecutive wins and highest percentage of wins in a single season.
Quotes:
Ron Dennis, McLaren Technology Group CEO: "As we embark on the second year of our renewed McLaren-Honda partnership, all of us remain united in our purpose. That purpose is to develop our team towards our shared ambition: to win.
"We'll make no predictions as to when those wins will come, but I can say without fear of contradiction that every member of our team has worked with truly relentless dedication over the past few months. The result is that MP4-31's developmental trajectory has been usefully steepened over the winter, and I'm consequently very proud of our team's efforts."
Motorsport Chief, Yasuhisa Arai: "Learning from last year, we've made changes to the compressor and other hardware of the power unit during the break, maturing our overall concept from last year. Our focus will be to test the car's balance with the new chassis and power unit, and specifically the ERS direction during the eight days of winter testing.
"We won't know exactly where we stand until we reach the end of the two tests, but we're looking forward to getting back on track, gathering data, and feeding back the information to our engineers so as to prepare for Melbourne and onwards. It's good to be back."