Ferrari has today revealed their Formula 1 challenger for the 2016 season, the SF16-H. The car features their traditional red and white livery which has not been used in over two decades.
The new Ferrari SF16-H has a relatively shorter nose than its predecessor, it has also received changes on the side pods, power unit, rear end as well as the suspension. It will join other new F1 challengers in Spain next week when the pre-season testing kicks off.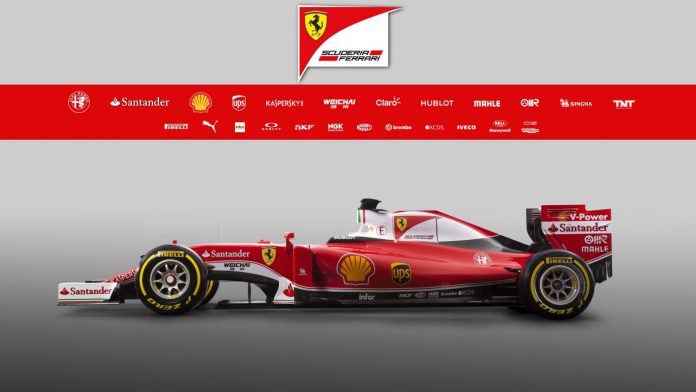 The shortened nose is one of the major highlights on the new SF16-H, a design that was adopted to better the aerodynamics. The new nose has also been raised to improve the airflow. The side pods were altered with keen focus on the radiators and the cooling systems.
Another key change on the SF16-H is the use pushrod activated springs in the suspension system, Ferrari has been using pull-rod springs in the past five years, the new system is lighter and has already been put into use by teams such as Williams F1. The engineers also reworked the power unit focusing on the inlet aspiration and the turbo.
Generally, the new car is narrower and tighter compared to last year's challenger. Ferrari won three Grands Prix last year and finished second in the championship behind Mercedes-AMG F1. Sebastian Vettel will return in the driving seat for the 2016 season accompanied by Kimi Raikkonen, the new team objective is simple, to win the championship.
Scuderia Ferrari has a record of 16 constructors' F1 championships in history won between 1977 and 2008. The team has won 224 races in total including 208 pole positions.
Quotes:
Sebastian Vettel: "Naturally our goals are growing. We all want more and hopefully this car will help us achieve it."
Maurizio Arrivabene, Team Principal: "Normally I don't set the objective, it is my boss. Last year it was three victories and we got it. This year we need to push a bit more, so it is going to be the championship – at least we would like to fight until the end. It won't be easy, our competitors won't be sleeping, but for sure we are all committed to do our best.
"We don't go to the races with a big statement, but we do with a big commitment. Humility is our driver, our passion, our commitment."