Newcomer F1 Team, Haas F1 Team has now revealed their 2016 Formula 1 car, the VF-16. They will become the first American team to compete in Formula 1 in 30 years, the last American F1 team was Haas Lola (unrelated to Haas F1) which competed in the 1985 and 1986 seasons.
The new Haas VF-16 is built by Dallara and uses a power unit provided by Ferrari. The car passed the mandatory FIA crash tests back in January and will make its official track debut alongside other new challengers tomorrow at the Circuit de Barcelona – Catalunya when pre-season testing begins.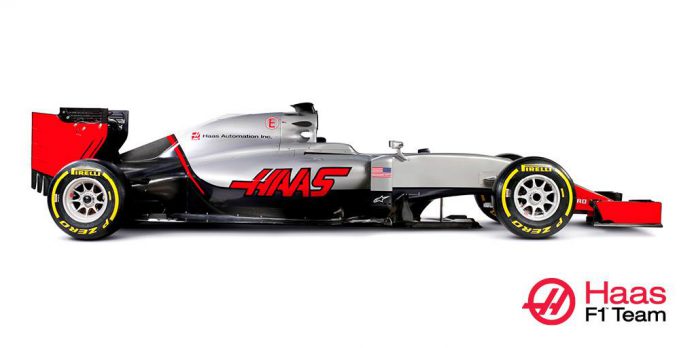 Former Lotus driver Romain Grosjean will drive for Haas F1 Team in 2016, joined by Ferrari test driver Esteban Gutiérrez.
The name "VF-16" was inspired by the very first CNC machine manufactured by Haas Automation in 1988, the VF-1. Back then, the "F1" stood for "the very first one" implying the company's first machine. Today, it gets a new meaning reflecting the company's participation in Formula 1.
The new VF-16 F1 challenger has been liveried in dark gray, light gray and red-toned colors to symbolize the vertical and horizontal machining centers owned by Haas Automation. The firm is the largest machine tool builder in North America with more than $1 billion in annual sales, and exports across 60 countries worldwide.
See More: 2016 McLaren MP4-31 and 2016 Mercedes-AMG F1 W07 Hybrid
Quotes:
Gene Haas, team owner, Haas F1 Team: "From an international standpoint, Formula One is the highest echelon of racing, and Haas Automation builds the highest-quality machine tools. When you hear 'F1' you know exactly what it is – a global racing series that showcases the latest technology and attracts the best talent in engineering and design. Haas Automation has an excellent reputation in the United States and I want that reputation to grow worldwide. Connecting Haas Automation with F1 in name and in practice is the best way to grow our business and elevate Haas Automation to a premium, global brand."
Guenther Steiner, team principal, Haas F1 Team: "Just as Haas Automation's products continually evolve, becoming better and more efficient, our methodology behind the VF-16 was to make it the best evolution of a good F1 car. We're a new team, so we looked at what the successful teams were doing to give us a baseline of the direction we needed to go with our design.
"Our goal with this car is to score points. First, we need to go out there and show that we can do the job, that we can finish races, that we are respected by the fans and other teams in the paddock. Then, we want to score points. That is the ultimate goal."