The 2016 BMW 7-Series was unveiled at the IAA Frankfurt Motor Show 2015 and joined most notably by the M6 GT3 and M6 Competition Edition. All three cars turned heads at the show and the first two are particularly important for the German brand.
Of most significance is the new 7-Series. It features carbon fibre reinforced plastic throughout its construction as well as aluminium and lightweight steel. Thanks to these materials, it weighs 130 kg less than the outgoing model. These materials have also increased the strength and rigidity of the car.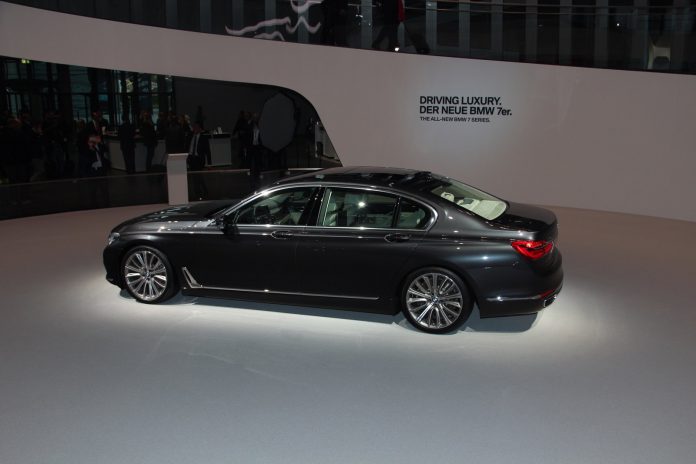 There are also various other services like remote control parking, BMW laser lights that are found in the i8 (increasing visibility up to 600 meters), semi-automated driving option and an updated iDrive. Passengers in the rear seats get 10-inch infotainments screens that can be used to listen audio files, watch videos and play video games.
Meanwhile, the BMW M6 GT3 was revealed as the successor to the Z4 GT3 currently fielded by the German automaker. Beneath the skin, the BMW M6 GT3 will use a tweaked variant of the road car's 4.4-litre twin-turbocharged V8 engine. It remains to be seen just how powerful this engine will be but it will produce over 500 hp. That said, due to restrictions, it's unlikely to match the 600 hp offered by the M6 Competition Package.
Finally, the M6 Competition Edition was unveiled at IAA 2015 and has been inspired by the GT3. Underpinning the M6 Competition Edition is the same twin-turbo 4.4-litre V8 as the regular M6 models. However, it has been massaged to pump out 600 PS and 516 lb-ft of torque. When fitted with the optional M Driver's Package, the top speed sits at an impressive 305 km/h.