The 2016 BMW 7-Series is celebrating its world debut at the IAA Frankfurt Motor Show 2015. Created to rival the class-leading Mercedes-Benz S-Class, the new 7-Series features numerous upgrades and improvements over the outgoing model.
Arguably the most significant advancement for the new 7-Series is its use of carbon fibre reinforced plastic throughout. Thanks to this lightweight material as well as aluminium and light steel for the chassis and body construction, the car's weight has been reduced by 130 kilograms. These materials have also increased the strength and rigidity of the car.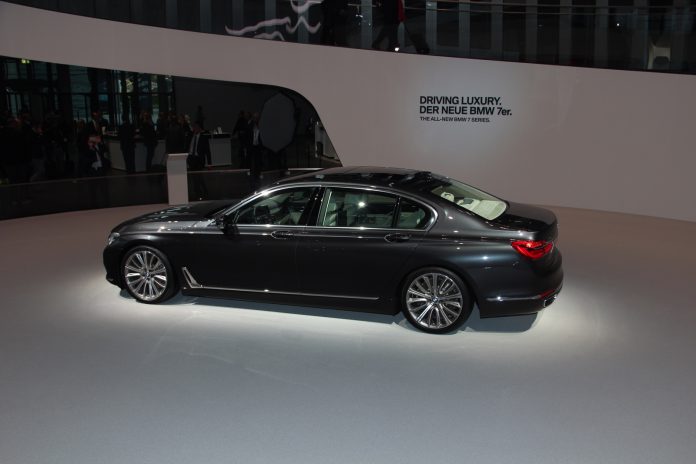 BMW promises that the cockpit is more driver focused. The Integral Active Steering system provides better handling and response, while in the new Adaptive driving mode, the car's set-up automatically adjusts according to the driver's style and the characteristics of the road.
There are also various other services like remote control parking, BMW laser lights that are found in the i8 (increasing visibility up to 600 meters), semi-automated driving option and an updated iDrive. Passengers in the rear seats get 10-inch infotainments screens that can be used to listen audio files, watch videos and play video games.
At launch in the United States, the 2016 7-Series will be available in 740i and 750i guises. The first of those uses a twin-turbo 3.0-litre inline-six engine with 320 hp while the latter features a twin-turbo 4.4-litre V8 churning out 445 hp.
For more about the 2016 BMW 7-Series, see our previous post. For more from the IAA Frankfurt Motor Show 2015, see our dedicated news channel.