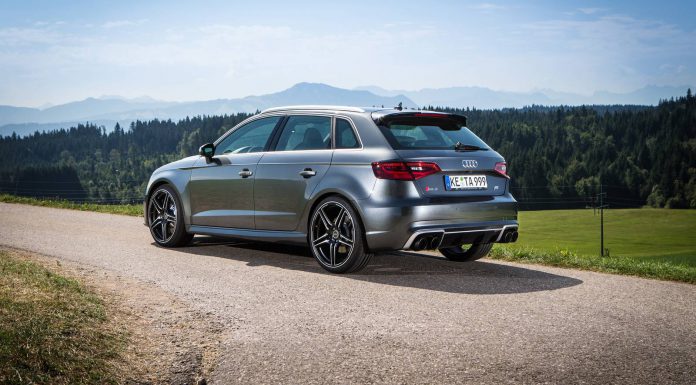 ABT Sportsline has just unveiled its range of upgrades for the 2015 Audi RS3 with a specific focus on making the potent hot hatch even faster.
Typically, the 2.5-litre turbocharged five-cylinder engine of the RS3 delivers an impressive 367 hp and 455 Nm of torque. Thanks to the installation of an additional control unit and custom software, ABT has managed to boost that to 430 hp and 530 Nm. Consequently, the ABT Audi RS3 will accelerate to 100 km/h in a mere 4.1 seconds and onto an electronically limited top speed of 285 km/h rather than 250 km/h.
Beyond the engine upgrades, ABT Sportsline also offers a number of different wheels for the RS3 in 19×8.5 and 19×9 inch sizes wrapped in 235/35 R19 Continental sports tyres. Elsewhere, an ABT muffler system is available as are ABT floor mats and door entrance lights.
Impressively, ABT has confirmed that it is working on an even more powerful RS3 with the 'ABT Power S' package.
[showhide]
"ABT Sportsline 2015 – Press release CW34
Rocket science: ABT Sportsline with 430 hp for the new Audi RS3
Not only space rockets are multi-stage vessels. Audi also adds another "stage" and tops its S3 with the even more powerful RS3. And the next boost is right around the corner:
ABT Power "New Generation" and its extra control unit with its specially developed software provide the Audi RS3 with 430 HP/ 316 kW (serial version: 367 HP/ 270 kW). And maximum torque rises from 455 to 530 Newton meters, which is also reflected in these data: getting from naught to 100 kph now only takes 4.1 seconds and the electronically limited top speed of 250 kph is raised to 285 kph. Extensive warranties and test cycles on ABT's own dynamometer and public roads guarantee utmost dependability.
In order to impress even astronauts, often exposed to massive G-forces, ABT Sportsline also has a more powerful engine in the pipeline. "ABT Power S is already on the launch pad, ready to surprise you," says CEO Hans-Jürgen Abt. More extra HP aside, customers may look forward to a really impressive sound, in both "stages", which is generated by the 4-pipe exhaust system made of stainless steel and with black chrome-plated tailpipes (102 mm Ø).
All you will still need is the right alloy wheel like the cast ER-C or the especially complex and light forged ER-F. For the Audi RS3, both versions are available in 19'' in "Gun-Metal", "Silverbullet" or "Black Magic" colours and, on request, come with 235/35 R19 tyres.
Also on request, entrance LEDs bearing the ABT logo will guide the crew into the rocket, with their feet then resting on floor mats featuring silver ABT embroidery and curved lines. Ready for lift-off?
The new ABT RS3 – data and facts
ABT ENGINE TECHNOLOGY
Engine: 2.5 TFSI, 2.480 cc capacity
Performance tuning: ABT POWER "New Generation"
Performance: 430 HP/ 316 kW (standard: 367 HP/ 270 kW)
530 Nm (standard: 455 Nm)
ABT WHEELS in ER-F and ER-C Design in 8.5 x 19 inch or 9.0 x 19 inch
Available also as complete set of wheels with Continental sports tyres in 235/35 R19
ABT EXHAUST TECHNOLOGY
ABT muffler system with four black end pipes (102 mm Ø)
ABT INTERIOR
ABT floor mats
ABT LED-door entrance lights with ABT logo"
[/showhide]