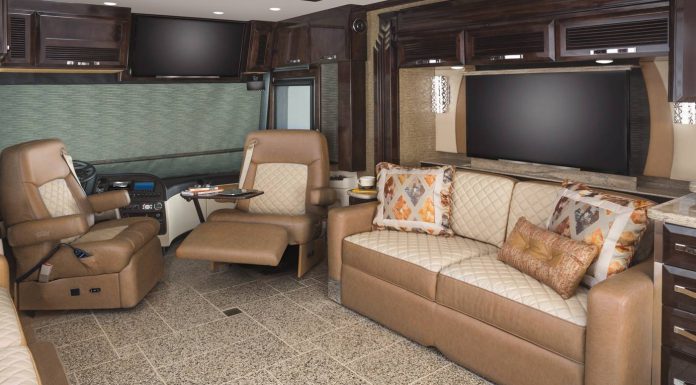 Newmar Corporation is a RV-maker based out of Nappanee, Indiana. It was founded in 1968 by Marvin Miller and Marvin Newcomer and Mahlon Miller acquired 100 per cent stake in the company in 1990. It is now a family-run business with Mahlon's son presiding over it.
Since 2012, Newmar has been focusing on crafting luxury Class A motorhomes. Its 2015 line-up was well received and the range-topping King Aire is the epitome of luxury when it comes to recreational vehicles.
Underpinned by Spartan's K3 tag-axle chassis and powered by a 600 hp Cummins ISX diesel engine, it has all the amenities of a home. There are lots of exterior graphics and paints to choose from, while customers get four options each for the wood color and the interior decor- all giving the King Aire a very premium and sophisticated look.
The driver and rest of the passengers get heated seats with a built-in massager. There are plenty of options for entertainment with LCD TV sets available in the living room, the bedroom and the external entertainment section. Sound systems have been outsourced from Bose and JBL and a Sony tablet enables the customers to control audio and visual components from distance.
In the kitchen, there are handcrafted glass sinks with embedded LED lights, along with plush hardware and instruments. The bedroom has a king-size bed and LED ambient lighting. There's also an option for heated floor tiles in the bus.
Class A coaches have often come under scrutiny for their lack of safety. They are tricky to drive and one will not want to get into an accident in a vehicle that has two generators (like the King Aire) and hazardous electrical appliances.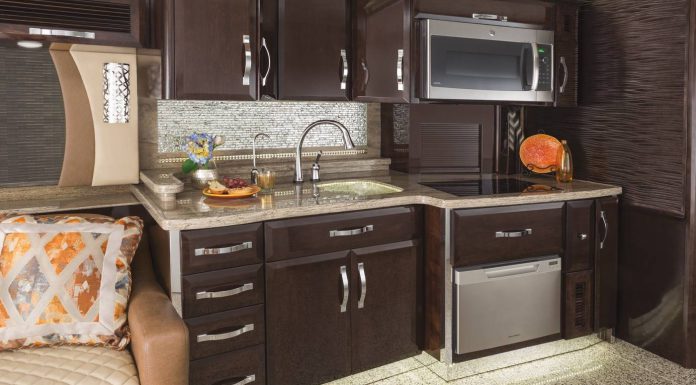 Hence, Newmar has taken several steps to ensure the 2015 King Aire is smooth and safe to drive. There's carbon fibre steering, giving the driver a better control over the bus and an optional Safety Cruise Collision system that uses Vorad adaptive technology to help navigate through adverse weather and detect potential blind spots. Furthermore, the 2015 King Aire gets disc brakes, Anti-lock Braking System (ABS) and a tyre pressure monitor system.
According to a popular RV Payment Calculator website, more than 350,000 vehicles and trailers were sold by RV dealers in the United States in 2014 and the industry at valued at more than $31.5 billion in the country. Heavy competition in the recent years means Newmar is currently going through a "rebuilding phase".
It is expanding its dealership network in North America and equipping its vehicles with the most luxurious facilities in order to stay ahead of the lot. The company has done well with the latest version of the King Aire, although the price tag that nearly touches US$ 1 million could put off some buyers.
For more information about the 2015 King Aire, click here.