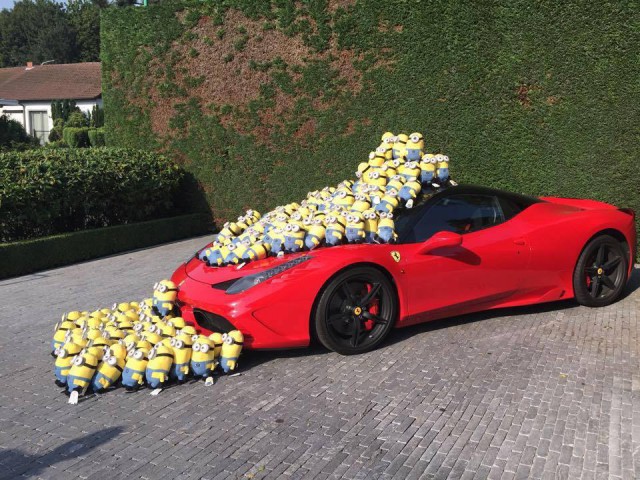 The Challenge 2015 is a supercar rally that kicks off from Berlin on 31 August. One of the competitors this season is Team Minions, which will bring a Ferrari 458 Speciale and a Mercedes-Benz SLS AMG to the event.
Formerly called the Quote Challenge (since Quote magazine sponsored the event), the rally is organised by Cars and Business- a Dutch-based supercar club. Its first edition took place in 2002. At the show, the participants do their best to arrive in the craziest themed cars and and keeping up with this ideology, Team Minions has has uploaded few pictures on Facebook with several miniature Minions invading their 458 Speciale.
The Ferrari 458 Speciale is the performance variant of the 458 Italia. It is powered by a 4.5-litre V8 engine, capable of producing 597 hp and 540 Nm of torque. The engine is paired to a 7-speed dual-clutch transmission that directs the power to the rear wheels of the car.
The 458 Speciale can sprint from 0 to 100 km/h in three seconds, which is 0.4 seconds faster than the 458 Italia and has an electronically limited top speed of 325 km/h. The 458 Speciale A, which is the spider version of the 458 Speciale, features the most powerful naturally aspirated V8 engine seen in a road-legal Ferrari spider model.