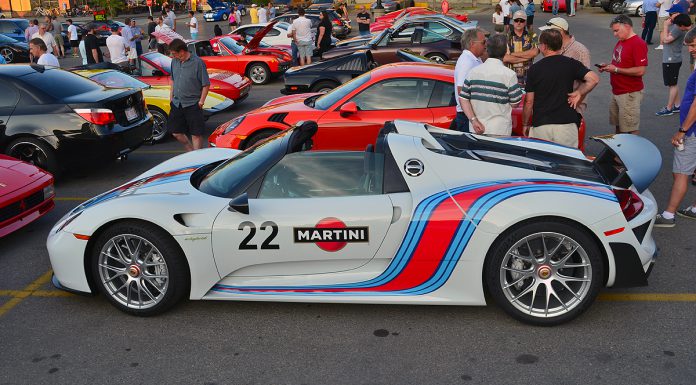 This Martini is shaken, not stirred. It came with plenty of friends too! Simply put, this was one of the best Euro Cars & Coffee events yet!
The weekly event, hosted by the Ferrari Club of America – Alberta Chapter, normally sees outstanding cars in attendance, but this week took things to a whole different level.
A brand new Martini livery Porsche 918 Weissach Edision graced its presence in the South-East shopping district in Calgary, showing its colours to the camera-clad public for the first time. Accompanying it was its younger sibling, the brand new Porsche 991 GT3 RS, the first of two destined for Calgary.
Both Porsche supercars struck awe in the eyes of the hundreds of spectators on-hand for the week's event.
Joining the Porsche duo was a superb Audi R8 GT and Top Gear Aston Martin Vanquish from Distinctive Collection. A pair of 507 Edition Mercedes C63 AMGs were present along with a Tesla Roadster duo, a Lamborghini Gallardo Spider and a rare Arnolt (Bertone) Bristol from the Fred Phillips car collection.
It was a wild evening full of some truly amazing supercars! We're already looking forward to next week!