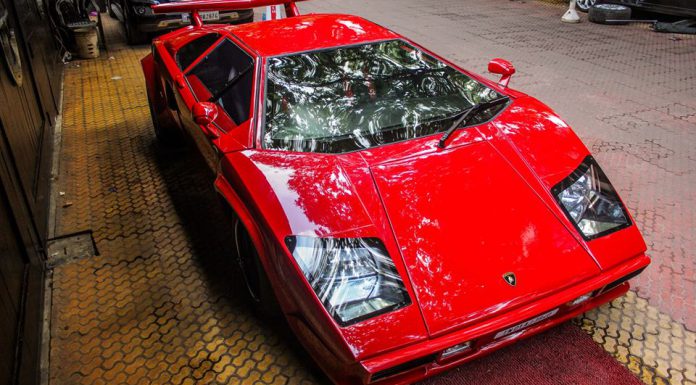 Mumbai, formerly called Bombay, shelters the highest number of billionaires and millionaires among all the cities in India. It generates more than six per cent of the latter's GDP and is the commercial, financial and entertainment capital of the Asian country.
Hence, it doesn't come as much of a surprise to hear that Mumbai has an active supercar culture and a plethora of car enthusiasts. GTspirit recently covered the 15 best supercars of the city, with the list featuring a string of highly-coveted vehicles.
That said, our photographer friend from Mumbai recently spotted a replica of the Lamborghini Countach. The images of the latter can be seen in the above gallery. While the car does resemble the Countach, a close look at the headlights and taillights give us a good hint that it's not a real one. Moreover, the wheelbase seems shorter and the rear fascia is a bit different as well.
The Countach was produced by Lamborghini from 1974 to 1990 and was the Italian carmaker's flagship model. It replaced the Lamborghini Miura and was eventually succeeded by the Diablo. Nonetheless, only 2,049 units of the Countach were produced and it's unlikely that any of the models made their way to India.
The '25th Anniversary Edition' Countach, which was the most popular, most refined, and possibly the fastest edition of the vehicle, featured a 5.2-litre V12 engine that generated nearly 450 hp (335 kW) and 500 Nm of torque. This variant of the Countach could sprint from 0 to 60 mph in 4.7 seconds, with a top speed of 295 km/h.