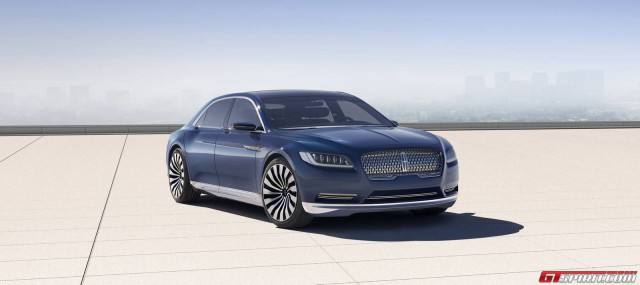 On the back of the 2017 Lincoln Continental being revealed in concept guise at the New York Auto Show back in April, it has emerged that the new American luxury sedan will be built in Flat Rock, Michigan.
That plant is currently responsible for building both the Ford Fusion and Mustang. As it stands, the current Lincoln MKZ is made in Mexico while the MKT and MKX crossovers come to life in Canada. Meanwhile, the Lincoln Navigator SUV and MKC are made in Kentucky.
A return to Michigan will be symbolic for Lincoln considering that up until 2006, all Lincoln models were built in Michigan. With the new Continental, the American automaker will look to move further up in the market and tap into an industry it hasn't previously done so.
As for the design of the concept, it is quite obviously a Lincoln with a prominent chrome grille wearing the marque's recognisable logo. Additionally, a set of LED matrix headlights have been installed complete with high-tech laser high beams. The lower section of the front bumper, the side skirts and part of the rear bumper are painted in a high gloss shade of silver alongside the dark Rhapsody Blue paint adopted by the rest of the exterior.
Inside, the Lincoln Continental Concept features ultra-luxurious 30-way adjustable seats as well as light gold LED lighting. The front passenger seat can also fully recline at the press of a button while rear occupants are offered climate control settings and can also control the Revel Ultima sound system.