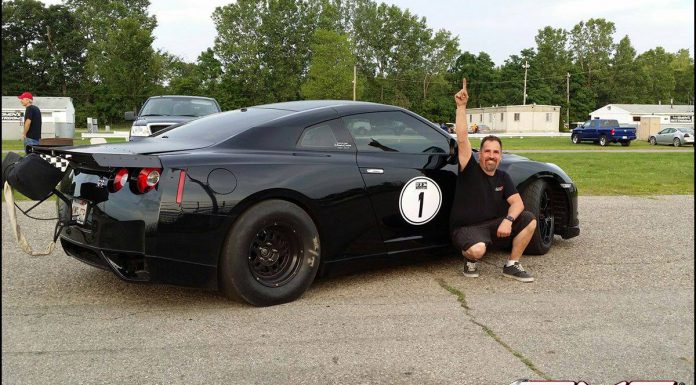 The famous Alpha Omega Nissan GT-R from AMS Performance has reclaimed its title as the world's fastest street-legal GT-R. After being beaten by the Extreme Turbo Systems GT-R earlier in the year in the quarter mile, it was inevitable that AMS would swiftly return to the drag strip to beat that time and set a new record.
Well the highly modified Japanese sports car has done just that with it clocking a 7.485 second quarter mile at a trap speed of 310.55 km/h. By comparison, the quickest time the ETS Nissan GT-R has set is 7.49 seconds at 304 km/h. During the record-breaking run, the Alpha Omega GT-R managed to reach 96 km/h (60 mph) in a mere 1.5 seconds.
Prior to this run, the best quarter mile time the Alpha Omega GT-R had set was a 7.7 second time. It is inevitable that the Extreme Turbo Systems team will soon be pounding the pavement in an attempt to reclaim the title in this heated contest between the two quickest GT-Rs in the world.
As a reminder, Alpha Omega GT-R was the first R35 to break the 10-second, 9-second and 8-second quarter mile brackets.
If you're interested in a complete list of the world's quickest GT-Rs, check out our special feature article from February!