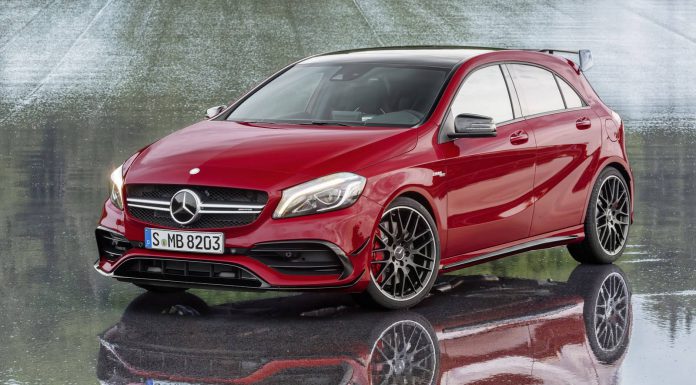 The facelifted 2016 Mercedes-Benz A-Class range has just been priced across Germany.
The entry-level Mercedes-Benz A-Class, the A160 complete with a small 101 hp engine, costs from 23,746 euros including the obligatory 19 per cent VAT. Elsewhere across the range, facelifted models cost between 184 euros and 892 euros more than the pre-facelift variants which they are replacing. For the refreshed design, additional power and new features the updated A-Class range includes, those price hikes are insignificant.
Certainly the most significant technological update across the facelifted Mercedes-Benz A-Class line-up is the Adaptive Damping System. Additionally, Apple CarPlay and MirrorLink is now supported. Select models in the refreshed range are also now available in 'Motorsport Edition' guise which includes new alloy wheels and a range of light green exterior accents.
As for the range-topping and market-leading 2016 Mercedes-AMG A45, it will cost customers a minimum of 51051 euros.
Beneath the skin, the Mercedes-AMG A45 features the same 2.0-litre turbocharged four-cylinder as the current car. However, thanks to a reconfigured valve assembly as well as tweaked timing and turbocharging, an additional 21 hp has been achieved. That brings the total figure up to 376 hp with torque also reaching 350 lb-ft.
Thanks to the extra power, a revised 7-speed dual-clutch transmission and all-wheel drive, the facelifted A45 accelerate to 100 km/h in 4.1 seconds. That is 0.1 seconds quicker than the 2015 Audi RS3 Sportback and 0.4 seconds brisker than the old A45 AMG. Despite the added performance, the hot hatch still sips just 6.9-l/100 km while the top speed remains electronically limited to 250 km/h.