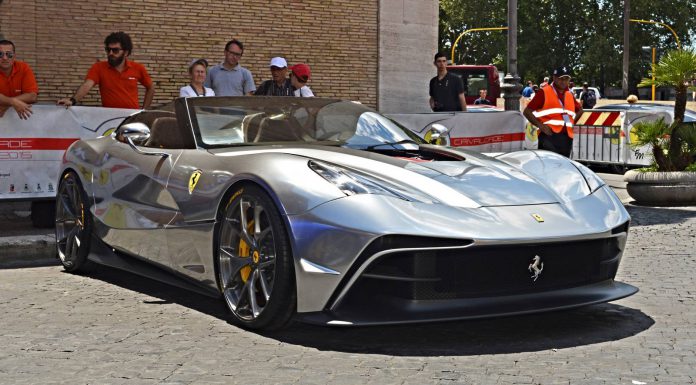 More pictures of the silver chrome Ferrari F12 TRS spotted at the ongoing 2015 Ferrari Cavalcade festival in Rome, Italy, have emerged.
The F12 TRS was initially produced as a one-off model based on the F12 Berlinetta and influenced by the 1950's 250 Testa Rosse, the classic Ferrari that won Le Mans in 1958, 1960 and 1961. It was developed at the personal request by a wealthy client from Ferrari's home Maranello in Northern Italy. This two-seater, open-top car was produced with red exterior paint and was seen at the 2014 Ferrari Cavalcade.
However, later that year Ferrari produced an identical model in black for another customer and this year, we have come across a third Ferrari F12 TRS, with an even more unique styling in silver chrome paint.
This F12 TRS has a custom bespoke bonnet along with a changed diffuser and new side-skirts. Moreover, unlike the other two models, the engine of this car has no glass covering on top of it.
The F12 TRS has the same engine found in the F12 Berlinetta. This means that the car is powered by a 6.3-liter V12 engine, capable of producing 730 hp and 690 Nm of torque. A seven-speed dual-clutch gearbox transmits the power to the rear wheels of the car. It can sprint from 0 to 100 km/h in 3.1 seconds.
The Ferrari F12 TRS costs upward of $4 million and has been designed by Ferrari's design chief Flavio Manzoni and the company's Style Centre team.